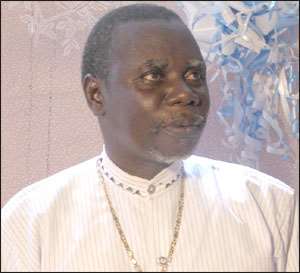 Prophet Kofi Boateng THE CONTROVERSY surrounding the discovery of a permanent cure for HIV/AIDS has popped up again as a spiritualist-cum-herbalist based at Kade in the Eastern region has laid claim to the discovery of an authentic anti-HIV/AIDS medication.
The herbalist who is a member of the Ghana National Association of Herbalists operating a herbal clinic at Kade told pressmen at the weekend that he has a cure for HIV/AIDS and that if health authorities want to know  the  authenticity or otherwise of his claims, they can contact him for him to prove it.
According to Prophet (Dr) Isaiah Kofi Boateng, operator of ISABOACO Herbal Clinic at Kade, he has successfully treated four HIV patients and subsequent laboratory tests have proven that they have been fully cured.  
Prophet Boateng, who was addressing a press conference, said he has all the documents covering the patients proving they were HIV positive before going through the treatment and documents of medical tests showing that they are now negative.
Asked how he was able to discover the HIV medication, Prophet Boateng said since God created human beings and knows everything about the immune system and what could destroy it, He gave him the knowledge as to what medicine to apply to kill the HIV virus.  
According to him, HIV patients could be put on medication for six months or more depending on the maturity of the virus and the destruction caused to their immune systems.
"I want to say that God has answers to all diseases since he created the human being," he indicated.
The herbalist also told the press that apart from HIV/AIDS, he can effectively treat and cure stroke, diabetes, hypertension, typhoid, impotence, epilepsy, hepatitis B and retention of urine.
"Some chronic diseases might have spiritual causes or connections so as a spiritual man, I know what to do to break those spiritual links before applying the medication for the treatment to be complete," he said.
He explained that he has a special computer which can diagnose all kinds of disease before the right medication would be applied.
He called on government and individuals to come to his aid to enable him expand his clinic and offer the services God has asked him to give to mankind at very moderate prices, indicating that individuals can also reach him.
From Thomas Fosu Jnr, Kade