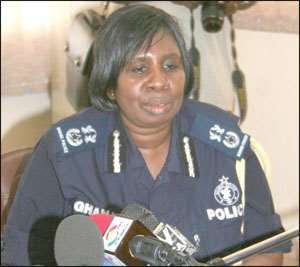 Elizabeth Mills- Robertson, Acting IGP THE ACTING Inspector General of Police, Mrs. Elizabeth Mills-Robertson, has descended heavily on internet fraudsters otherwise known as "sakawa" boys, warning that very soon the Police would start arresting them.
Condemning the practice which has been going on for a while now in the country, especially within the Zongo communities such as Nima and others, she implored opinion leaders in such areas to assist the Police in remedying the anomaly.
The IGP was delivering an address at the Chief Imam's residence during this year's Islamic birthday celebration of Prophet Mohammed (Maulud Nabiyi) at New Fadama when she touched on the subject.
The youth use credit numbers of persons living abroad to draw money from their accounts. Some of the youth even travel to Benin Republic to seek voodoo support.
The IGP touched on a medley of issues, particularly germane to the Islamic community in the country such as educating the girl child.
Women she noted have a special place in the Islamic religion and should therefore not be denied access to knowledge.
Muslims, she said, must abide by the tenets of the religion adding that the Holy Prophet changed the course of history.
She encouraged Muslims to send their children to school because it is against the religion to deny education to their offsprings especially the girl child.
She told her attentive audience, that for far too long, women have been exposed to all manner of violence and harassment, actions which should not be tolerated.
The world recently celebrated Women's Day, a day on which all should reflect on the role of women against the backdrop of rising violence against them.
Women play an important role in the upbringing of children since they are more in touch with them. This informs, she went on, the need to educate the woman so that she can play this role in a better fashion.
Her warning to the "sakawa" boys was particularly timely since the phenomenon has been noted to be responsible for the high school dropout rate among the youth in the Zongo communities.
The phenomenon is paying as most of the youth now ride flashy cars.
By A.R. Gomda