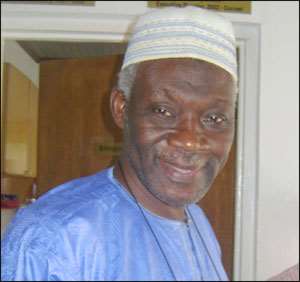 Prof Walter Sandow Alhassan PROF WALTER Sandow Alhassan, Consultant at the Forum for Agricultural Research in Africa (FARA), has indicated that it is unlikely Africa will meet the Millennium Development Goal number 1 (MDG 1) of halving poverty and hunger by 2015 given the current low levels of agricultural productivity.
Presenting the 2008 International Service for the Acquisition of Agri-biotech Applications (ISAAA) in Accra recently, Prof Alhassan said low technological deployment in agriculture; poor irrigation facilities, pests and diseases as well as climate change problems pose threats to the achievement of the goal.
With market constraints, low levels of investment including low credit, fragmented land holdings on degraded soils and conflicts, constituting problems bedeviling the attainment of MDG 1, Prof Alhassan has recommended biotechnology to overcome the foregoing.
According to him, biotechnology, defined by the Convention on Biological Diversity as "any technological application that uses biological systems or derivatives to make or modify products or processes for specific use," improved farm income gains worldwide by $44 billion from 1996 to 2007.
Of this, 56 percent was due to cost of reduction and 44 percent due to a production gain of 141 metric tonnes.  Biotechnology, he continued, has helped reduce environmental impact globally such that it has reduced the need for external inputs by saving 359,000 metric tonnes of pesticides from 1996 to 2006, saving 14 billion kilogrammes of carbon dioxide in 2007 and conserving soil and water through low tillage. In 2007, the gain was equivalent to getting 6.3 million cars off the road.
On biodiversity protection, he said double crop production on same area of 1.5 million hectares of crop land saved forests 13 million of which is lost annually in developing countries.
The technology has also contributed immensely to poverty alleviation among 12.3 million small and peasant farmers in 2008, with a lot of welfare benefits.
Calling on African scientists to be proactive with the technology, Prof Sandow said progress with the control of a-biotic stresses is expected in the near term with drought tolerance becoming available by 2012 or earlier in the USA and Sub Saharan Africa by 2017.
"In Sub Saharan Africa, a project – Water Efficient Maize for Africa (WEMA) in Eastern and Southern Africa - is on course. It is a $45 million project funded by the Bill and Melinda Gates Foundation and the Howard Buffet Foundation."
Even though most countries in Africa received help to develop their biosafety framework, only few have backed this with legislation. These include Burkina Faso (Bt cotton), Egypt (Bt maize) and South Africa (Bt maize, Bt cotton and Roundup Soybean) which have laws with regulations to permit commercialization of GM crops.
Even though Kenya, Mali, Togo, Cameroon, Malawi and Zimbabwe have legislations in place, they are yet to commercialise while Kenya, Uganda, Nigeria, Tanzania, Mozambique and Ghana have legal frameworks to do field trial with GM crops.
In the case of Ghana, the election campaign activities of 2008 did not allow submission of a substantive bill to Parliament.
By Samuel Boadi