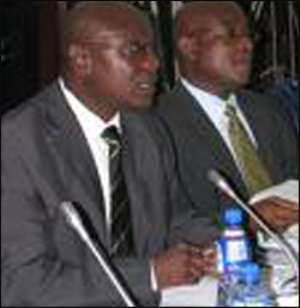 Mensah Bonsu, Minority Leader THE MINORITY in Parliament has tasked the National Democratic Congress (NDC) to take immediate steps to arrest what it described as the re-emergence of lawlessness, disorder, insecurity and instability in some parts of the country.
Addressing a news conference at the Parliament House yesterday, the Minority spokesperson on Defence and Interior, Hon. William O. Boafo, noted that criminality and lawlessness are being perpetuated with impunity and gross disregard, disrespect for fundamental rights and personal freedoms of the citizenry, rule of law, which are pre- requisites for promoting peace and growth of the country.
Hon. Boafo, who is also the Member of Parliament (MP) for Akropong in the Eastern Region, said the Minority "has observed with dismay, deep concern and care the recent unprecedented, heightening and intensifying spate of lawlessness and seriously worrisome insecurity prevailing in some parts of the country".
He enumerated attacks on NPP sympathizers at Agbogbloshie and Kokomba markets, Appiah Stadium in Kumasi, general harassment of political opponents by NDC, the temporary disappearance of former Director of Manpower and Personnel of Ghana Armed Forces, Col. Kwadwo Damoah for speaking the truth about apparent unprofessional intrusion of Forces in recent times and the resurgence of violent conflict in Bawku as some of the cases of creeping insecurity and lawlessness in the country.
These, according to the former Deputy Defence Minister, are gradually eroding the recent recognition and acknowledgement of Ghana as a country pulling together concerted efforts to promote peace, security and stability as foundations for development.
The Minority called on the leadership of the NDC to admonish its supporters to halt their harassment, humiliation and annihilation of persons perceived to be supporters of the NPP, and "take notice if steps are not taken to stem the tide of the intimidation and harassment we, the Minority would advise ourselves".
Citing specific instances, Hon. Boafo asserted that there were "unjustifiable brutalities which engulfed" Tamale with "consequential loss of life and indiscriminate destruction of properties by arsonists, adding there were media reports that some persons were identified as unlawfully possessing AK47 assault riffles, G3 and SMG weapons among others.
"In the Bawku communal conflict, several houses have been burnt or razed to the ground; precious items in a number of houses have been reportedly looted or vandalized; most government workers have abandoned their posts; a number of people are being turned into internal refugees having packed their luggage and left the town; and several people both adults and children have been brutally or fatally assaulted, battered, injured, maimed or cruelly killed," the Minority pointed out as part of the prevailing insecurity in the country.
Reports coming from the area, according to the Minority, indicated that one Yusif was hit with a cement block on the head and he died at Mazema in Bawku, and that earlier reports also hinted that one Amadu was shot dead at Sabongari, a suburb of Bawku and another one was stabbed at petrol filling station.
"Surprisingly, the NDC government is attributing the cause of the conflict to mainly the massive youth unemployment in the Bawku municipality and its environs in complete disregard of the factual causes which are embedded in inter-tribal, chieftaincy, land disputes and personal reprisals or political retaliatory vendettas," the Minority stated.
Hon. Boafo noted that this approach is nothing but cosmetic rationalization, emphasizing that Bawku is not the only area experiencing youth unemployment in the country.
He lamented that the inexcusable attacks on perceived political opponents of NDC administration at Kokomba and Agbogbloshie markets in Accra have resulted in the displacement of petty traders and market women, disrupting trading activities in the two areas, adding, "up to date, some of the victims have not been able to resume their trading activities, and thereby have been forced to languish in poverty and hunger".
According to him, there are media reports that one Alhassan Suleman was killed which has resulted in his brother, Abdul-Razak Abdulai, now living in constant fear of his life and that 30 houses were also reportedly burnt down without any serious action taken to apprehend the culprits.
Hon. Boafo noted further that a well-known innocent citizen in Kumasi, popularly called Appiah Stadium, "was cleverly ambushed, virtually arrested and escorted to an unknown destination for execution of a hidden agenda by a known NDC cohort, notoriously called Cedi, in the company of four armed macho men".
Hon. Boafo also cited what the Minority described as mysterious child related deaths in certain parts of Accra metropolis which has sent cold shivers down the spine of concerned parents, saying "these children were all found dead  in abandoned vehicles in enclosed residence or auto-workshop".
By Awudu Mahama & Sheilla Sackey