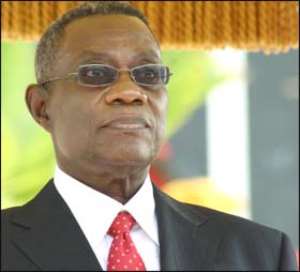 President John Atta Mills President John Evans Atta Mills, on January 7, 2009 swore to the good people of Ghana that he would rule as president strictly by the letter and spirit of the 1992 Fourth Republican Constitution, and promised to suffer any punishment thereof should he flout any part of the sacred document.
But less than three months after taking the Oath of Office, there are indications are that the former law lecturer has thrown caution to wind, taking decisions as and when he considered them convenient.
Investigations conducted by DAILY GUIDE indicate that a number of appointments made by the president are technically ultra vires and for that matter null and void as they go contrary to the Presidential Office Act.
It is required that presidential staffers at the presidency should be selected with an input from the Council of State, but even though President Mills is yet to swear-in his team of advisers, it is evident he has made a number of appointments in his office.
Section 3 (1 &2) of the Act states: "The President shall, acting in consultation with the Council of State, appoint such persons as he considers necessary to hold office as Presidential Staff in the office".
Going by the fact that the Mills' team of advisors will be sworn in today, the appointments of Mr. Henry Martey Newman (Chief of Staff), Mahama Ayariga, Presidential Spokesman, Koku Anyidoho, Communications Director, Mr. Bebaako-Mensah, Secretary to the President Victor Smith, Presidential Staffer for Protocol, Major General Joseph Nunoo-Mensah, National Security Advisor, and Nii Lantey Vanderpuije, Director of Operations among others are not recognized by the constitution.
The Act goes on to say that: "The presidential Staff shall be entitled to such salaries, allowances, facilities and privileges as shall be determined under Article 71 of the Constitution".
This also goes to suggest that whatever costs the state is incurring on the current staff at the presidency, including the free fuel and other facilities they are enjoying are illegal.
However, Mahama Ayariga, presidential spokesperson conceded there were some constraints and noted that the President, for administrative purposes, had no option than to act the way he did.
He said the president was not oblivious of his action, pointing out that it was prompted by administrative circumstances.  
According to him, President Mills has put together the fastest team in the nation's history, adding that it took President Kufuor six long months to constitute his Council of State.
The presidential press secretary admitted that technically a Council of State should have been officially put in place before staffers are named, but was sharp to add that there was no way a newly sworn-in president, for instance, could issue press statements and work when he had not a secretary or Chief of Staff to run his office.
He said even though President Mills had made those appointments, none of them had been paid any salaries as yet, and revealed that they would start taking salaries after they had been duly recognized by the Council of State.
Political observers, however, opined that no matter the constraints in the current system, the government has no moral right to exploit the so-called lapses therein, more so when Ayariga, Mr. Newman, and indeed President Mills himself were all lawyers, and should have known the implications of their actions.
It is not clear how much resources the state has incurred on the staffers in the last couple of weeks, but observers say it could run into millions of Ghana Cedis.
By Bennett Akuaku