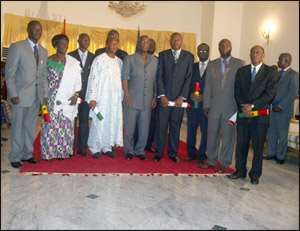 Deputy Ministers have been sworn-in THREE MINISTERS at the office of the presidency and five deputy Ministers have been sworn-in by President John Evans Atta Mills at the Osu Castle who admonished them to be humble and hard working.
The Ministers of State at the Office of the President are Alhaji Seidu Amadu, Abdul-Rashid Pelpuo and Kwajo Tawiah Likpalimor while the deputies are Elizabeth Amoah-Tetteh and Dr. Joseph Annan, both for Education, Dr. Kwabena Donkor and Emmanuel Armah-Kofi Buah, both for Energy, and Seth Emmanuel Terkper for Finance.
The Ministers took the three oaths namely, Allegiance, Office and Secrecy, witnessed by Brigadier-General Nunoo Mensah, National Security Advisor, Henry Martey Newman, Chief of Staff; Bebaako Mensah, Secretary to the President, Mahama Ayariga, Presidential Spokesperson, some government officials and family members.
President Mills advised the ministers to cooperate with one another to ensure the success of his government.
He reminded them of the attitudes of some deputies who try to undermine their ministers to win favour from the presidency and warned them against such a tendency.
According to the President, any deputy who undermined his 'boss' so he or she would be replaced, would equally be sacked since they would both be considered failures.
He said the credit would go to the deputy ministers as well if their Ministers were able to achieve their goals, saying, "we are here to work as a team."
For the Ministers of State at the Office of the President, President Mills cautioned them against abuse of office for their personal comfort.
He said the fact that they would be operating from the Castle does not make them superior over other Ministers working outside the Castle and therefore urged them to collaborate and work together towards advancing the welfare of Ghanaians.
The President re-echoed the need for them to be humble, transparent and honest, reminding them that being a Minister was not a right but a privilege which they should take advantage of to promote the welfare of the people, in accordance with the mission and vision of the government.
The president wished them well and told them to be upright and sincere for the people of Ghana to see their good work.
Brigadier-General (Rtd) Nunoo Mensah, National Security Advisor, sharing his experience with the ministers, asked them to be focused on addressing the problems of poverty confronting Ghanaians and to avoid the temptation of amassing wealth.
He urged them to take into account the welfare of the people instead of spending time on unimportant matters.
Speaking on behalf of his colleagues, Alhaji Amadu thanked the President for the opportunity offered them to serve in his administration.
"We shall do all that is possible in our individual capabilities and collective responsibility to assist you to achieve your goal of building a better Ghana," he said.
By Wisdom Peter Awuku