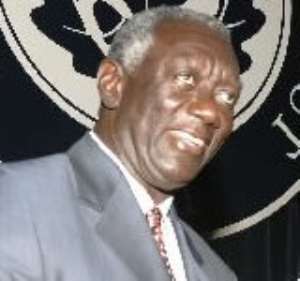 Some women in Kumasi have taken to the streets in protest over what they refer to as unfair treatment of ex-president J.A. Kufuor.
They are incensed with the recent retrieval of three BMW vehicles and the controversial office accommodation which has strained relationship between the ex-president and the Mills administration.
The government explained the BMW's are part of national security vehicles and should not be given out to the ex-president.
Three Chryslers meant replace the BMW's were subsequently rejected by ex-President Kufuor.
There is still back and forth over the procedures the ex-president used in acquiring the office accommodation.
The women say they are not impressed with the way President Mills has handled the situation.
Speaking to Joy Correspondent Elton John Brobbey the women say the ex-president does not deserve the treatment being meted out to him.
They cite the National Health Insurance Scheme, Free Maternal Care, School Feeding Programme and the Capitation grant as some of the achievements of Mr. Kufuor and called on the President to resolve the problems.
Story by Nathan Gadugah