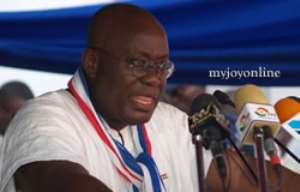 A member of the opposition New Patriotic Party, John Kuma says the leadership of the party must call Nana Akufo-Addo and his supporters to order.
He is unhappy that party supporters were organized to welcome the party's presidential candidate for the 2008 elections from abroad at the Kotoka International Airport.
Mr. Kuma
believes the actions of some party supporters and executive created the impression Nana Addo is still the party's flag-bearer.
Such actions, he said, did not allow for grassroots mobilisation of the party's support base, as they breed disunity.
"I think that this is the time for us to put individual ambitions aside. The party (leadership) should be looking at how we can re-energize the party at the polling station level."
He expressed regret that some of the party's offices had been closed, stressing the need to act fast.
Mr. Kuma refuted allegations that he wanted action taken against Nana Addo because he belongs to the camp of Mr. Alan Kyerematen whose benevolence prevented a second round of voting at the party's national delegates' congress in December 2007, to select a presidential candidate.
Mr. Kyerematen came second in that election and had the right to go for run-off as Nana Addo who was leading, failed to obtain the required 50 per cent plus one vote stipulated by the party's constitution to win the poll, but he conceded defeat to Nana Addo.
Supporters of the two leaders, it is rumoured, have irreconcilable differences that probably caused the party's defeat at the general elections last year.
"This has got nothing to do with personalities. I am looking at the constitution of our party and the wisdom the framers of the constitution put in it that when we go into an election and we lose it is the national chairman who must take over as the leader of the party," Mr. Kuma noted.
Story by Malik Abass Daabu