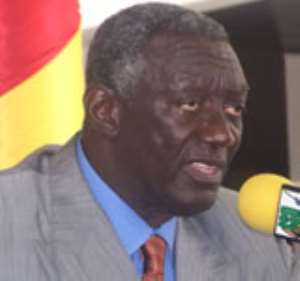 A group calling itself the Coalition of Democratic Forces has described as unfair treatments meted out to ex-president J. A. Kufuor.
They cite the retrieval of three BMW vehicles from Mr. Kufuor as well as his use of an office accommodation which has become an object of controversy.
Ibrahim Adjei spokesperson of the group told Joy News on Tuesday they seek fairness from government.
"We want the present administration to honour both (former) presidents (Rawlings and Kufuor) in terms of their security, and dignity. They are both statesmen and are recognized as such in the international stage," he said.
He alleged the state has given two bullet proof vehicles to ex-president Rawlings and finds it worrying that ex-president Kufuor's security requirements will be varied to his disadvantage.
"Where you have one former president (president Kufuor) being treated in a way that is at variance... with former president Rawlings, then it doesn't hold well in terms of our standing as a nation."
He said, the two are the only living ex-presidents and any attempt to vary their privileges will not augur well for the country.
He challenged the president to honour his campaign promise of being the leader to all sides irrespective of political affiliation.
Story by Nathan Gadugah