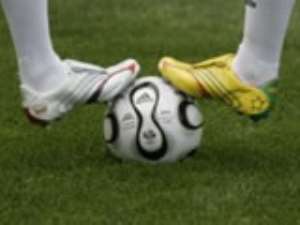 Fans of Gamba All Blacks poured out their anger on the club's Operations Manager Oduro Sarfo for pocketing monies allocated for the match officials who handled Sunday's league match against Chelsea Bechem and lost 0-1 at home.
Accra-based referee Sumaila Ibrahim disallowed two goals scored by the Black Magicians and that nourished the suspicions by the home fans
All Blacks stayed in the relegation zone with the results and the fans blame management for failing to pull the strings.
The fans reacted immediately after the final whistle by pelting Oduro Sarfo with bottled water. The aide-de-camp of owner Toshihiru Iwasa also suffered some beating.
"We are angry with Oduro Sarfo because they are (not) seeing the referees to help us. How can (we) sit at home and allow Chelsea to beat us-they must sit up," an exasperated fan told Ghanasoccernet.
"We are aware that he has been given (money) to pay the referee but he didn't do it. He wants to spend that amount-it can be possible."
Bribery and corruption is alleged to be simmering in the local game but the Football Association has failed to arrest this canker.
Clubs found guilty of such acts will be sanctioned in accordance with Article 35 of the bye-laws of the Ghana Football Association.
Credit: ghanasoccernet