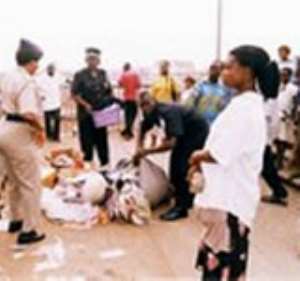 A recent phenomenon has caught my eye:
An art shop on the Odaw bridge on Graphic Road,
A simple room carved within a tree trunk that is nigh,
From across the SSNIT building next to Awudome
Housing a man of Rastafarian mode.
A market of second hand clothing and vegetables galore,
Lines the bridge towards Agbogbloshie like a store,
Leaving me in utter bewilderment and disbelief,
As to how a bridge that is a transient link over water,
Could become a permanent space for a market's relief.
As I gaze over the shadow of a river called Odaw,
Hardly flowing because it is so clogged with filth,
And rubbish of all degrees threaten to cloud my imagination with ills,
The question I ask myself over and over again is,
Why of all the places in Accra,
Should a tree trunk become a dwelling place,
Or a bridge turn into a burgeoning market,
When vast parcels of uncultivated space,
Remain across Ghana-land
Despite urbanization's relentless pace?
Where are our town and country planning executives,
And our MPs who promised to ease the ills
Of rapid urbanization and underdevelopment,
Where or where are our Accra MCEs and AMA officials,
As tree trunks become home and bridges become markets?
Is this phenomenon arising from poverty as a fact,
Or plain indiscipline, a disregard for things forbidden,
From the individual struggling to earn a living,
To the official who has forgotten to do his nation's bidding
Of a high level of personal and professional accountability
As s/he heads that ministry, department or agency?
Whatever the reason for this sad estate,
Should we wait for disaster to strike before we act,
As lives are exposed to danger so unhidden,
And how does this trend fit within our steady march
Towards improved and better social services,
And the generation of sustainable employment opportunities
Within a secure environment for the people of Ghana,
As outlined in Clause 14 of this year's budget with the theme:
Investing in A BETTER GHANA?
By Jane Ohenewa Gyekye
[Email: [email protected]]