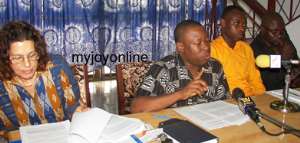 The Ghana National Education Campaign Coalition (GNECC) has backed the government's proposal for a conference on Ghana's education reform involving all political parties in the country.
For a holistic approach in this direction, the coalition is asking the government to provide adequate space for civil society participation and also urged it not to pay lip service to expert opinions that come out of the conference.
At a press conference in Accra on Monday, Mr Leslie Tettey, National Co-ordinator of GNECC, flanked by its Chairman, Bright Appiah and other members, commended the government on some key issues relating to the provision of quality education as expounded in the 2009 budget.
The coalition was most grateful for government's intention to subsidize BECE registration fees and abolish all extra fees in basic education, provision of free school uniforms and the increment in the capitation grant from GH¢3 to 4.5.
However, Mr Tettey said, since most children in deprived communities were unable to pay as high as GH¢3 termly fees, it would be prudent for the government to absorb such fees.
He said it would also be "limited and discriminatory" should government provide learning materials and other school supplies to only pupils in public school.
He explained, it was not by "choice or luxury" that some parents sent their wards to the private schools; but rather due to scarce government facilities in some communities.
Mr Tetteh said to improve quality of teaching and learning, especially in the rural areas, teachers who accept postings to deprived areas should be given tax reliefs.
"Lessons from the past indicate that any other adhoc and ineffective incentive mechanism will only amount to a drain on scarce educational resources, as it may not produce the desired outcome."
Story by Isaac Essel