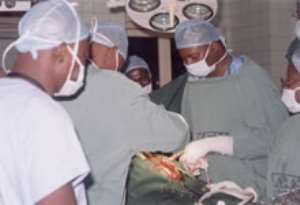 The Komfo Anokye Teaching Hospital (KATH) in Kumasi now has the expertise to perform total Laryngectomy - surgical removal of the voice box - following the successful operation on a 63-year old man.
This follows the return of Dr Anna Konney to the hospital, after her post fellowship training experience in Head and Neck Surgery and Oncology in South Africa.
Dr Konney led a team of Ear, Nose and Throat Surgeons to perform the first combined surgery of total laryngectomy and neck dissection at the hospital.
The seven hour operation was performed on the 63-year-old man with laryngeal cancer (Cancer of the voice box), which had spread to the right side of the neck.
The patient is doing very well after the surgery and has since started adjuvant radiotherapy.
Speaking to the Ghana News Agency, at Kumasi, after the surgery, Dr Konney said data at the Head and Neck Oncology clinic at the hospital indicates that laryngeal cancer was the third commonest cancer in the total population of patients.
Fifteen out of the 160 (9.4%) of patients who visited the clinic between 2004 and 2006 were found to be suffering from the disease, majority of them males.
She said the disease which is supposed to be common among adults between the ages of 60-62 was, however, being detected increasingly in patients around 50 years.
Dr Konney said laryngeal cancer was 6-39 times more likely in smokers than non-smokers. Alcohol abuse was also a risk factor and the combined risk of smoking and alcohol was even far greater.
She said patients usually present late with hoarseness, difficulty in breathing, swallowing and a swollen neck.
Dr Konney explained that late presentation had made it difficult if not impossible for patients to benefit from existing management modalities, adding that, palliative care procedures such as tracheostomy (creating an artificial opening into the trachea), placing a tube in the stomach for feeding, radiotherapy and pain management had been usually offered to help patients.
She revealed that patients are often refused total laryngectomy treatment mainly because of the loss of the voice following the surgery and so, few cases of total laryngectomy had been done in the past.
Dr Konney explained that surgical management when combined with other modalities of treatment such as chemotherapy and radiotherapy improved survival rate and quality of life adding that experts are now available at KATH to offer hope for patients.