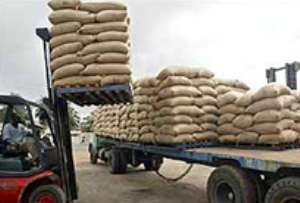 Cocoa Processing Company (CPC) Limited expects to significantly increase its revenue and widen its target markets this year, thanks to the completion of a five-year expansion programme that has more than doubled its throughput, its director has said.
The company now has cocoa beans throughput capacity of 64,500 tonnes, up from an initial installed capacity of 25,000 tonnes as a result of the expansion, completed in the third quarter of its 2007/08 financial year after a year's delay, Managing Director Richard Amarh Tetteh told the Ghana News Agency in Tema.
"The year 2008/09 promises to be good for the company as it positions itself to process 64,500 tonnes of cocoa and generate projected revenue of $208 million," Mr Tetteh said.
CPC declared revenue of GH¢59.3 million for the 2007/2008 financial year, saying its operations were hampered by the global financial crisis which led to high costs as a result of rise in crude oil prices which peaked at $147 per barrel last July.
Unreliable power supply also contributed to operational costs which rose by 22 percent, Mr Tetteh said.
"In spite of the tough global economic crises experienced in 2007/08, the company managed to operate profitably and was able to complete the final phase of its expansion programme in the third quarter of the 2007/2008 financial year," he added.
The company declared a net profit of GH¢1.27 million, compared to GH¢647,193 in the previous year.
The expansion, which was in two phases, began in 2003 with a loan of Euros 22 million and an additional $22 million, plus a local component of GH¢1.67 million.
Mr Tetteh said the company had since been ready to run at full steam and has embarked on "aggressive marketing strategies" to increase its market share of the cocoa and confectionery trade.
The first phase which entailed the construction of a new plant to process 30,000 tonnes of cocoa into liquor was commissioned in 2005. The second project involved the upgrading of the old cocoa factory to process 34,500 tonnes of semi-finished cocoa products, up from its 1965 installed capacity of 25,000 tonnes.
"CPC now operates, in addition to a confectionery factory, two modern state-of-the-art cocoa processing factories with a combined capacity of 64,500 tonnes of raw cocoa beans per annum," he said, adding that it is one of the most modern processing facilities in Ghana currently.
The cocoa factory grinds beans into semi-finished products such as cocoa liquor, butter, natural/alkalized cake, or powder while the confectionery manufactures the flagship 'Golden Tree chocolate bars', couverture, pebbles, and drinking chocolate powder and chocolate spread.
He mentioned Asia, Middle East, Eastern Europe and other African countries as new market targets the company was considering.
Currently, CPC exports about 95 percent of its semi-finished products to Europe and the Americas.
Mr Tetteh said CPC only deals with buyers on a spot-sale contract basis. This, he explained, is aimed at reducing the company's exposure to the volatility of the international cocoa trade.
CPC, formerly wholly-owned by the state, was partially privatised after the government offloaded 25 percent of its stake and listed it on the Ghana Stock Exchange in February 2003.