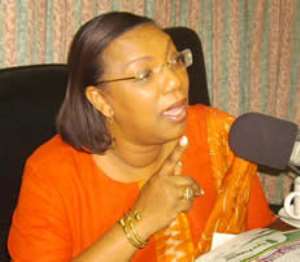 Steve Anti speaks to Betty Mould-Iddrisu
The Attorney General and Minister of Justice, Mrs Betty-Mould Iddrisu, says she still on a familiarization programme at her ministry, eight days after assuming office.
Mrs Mould-Iddrisu whose nomination was punctuated with concerns from the minority in Parliament for allegedly making unsavoury comments about the country's courts, said she has been grappling with a great deal of work as she took over her ministerial duties days ago.
Speaking to Joy FM's Steven Anti, the Justice Minister chronicled a plethora of programmes her ministry is set to execute in the next few years.
She mentioned a campaign to "overhaul" the criminal justice system in the country. This will be done in tandem with the Chief Justice and the Acting Inspector General of Police, she said.
Mrs Mould-Iddrisu dismissed suggestions that the National Democratic Congress in the lead-up to the 2008 elections created the impression that the office of the Attorney General and Minister of Justice was not fit for purpose.
"We created the impression that it definitely needed some more direction; that it definitely needed a radical overhaul in some of the areas," she said.
The ruling NDC in its manifesto promised a review of the criminal law and to ensure a more streamlined criminal justice system in the country.
Mrs Bettey-Mould lamented what she described as the huge backlog of cases some of which she said had been on the shelves for years without attention.
As part of efforts to clear the backlog, she said the ministry has revamped its workforce with more assistant state attorneys who would assist in prosecutions.
While admitting she had inherited "a relatively up-to-date infrastructure" she also noted that an electronic library system for the ministry was imminent.
The minister stressed, however, that with the budget of her ministry slashed by some two-thirds, the task ahead of her could be daunting.
Story by Fiifi Koomson