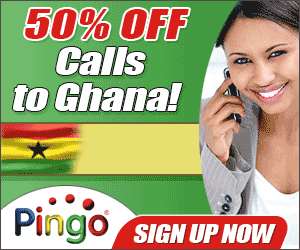 Pingo.com announces a 50% discount on calls to Ghana. Pingo users who call Ghana usually pay 7.2 cents per minute. Now, any new Pingo customer who signs up in March can take advantage of the 3.6 cents per minute rate. Calls made to Accra that used to be 7 cents per minute are now half price at 3.5 cents per minute. Calls made to Ghana mobile phone numbers are also half off at 16.5 cents per minutes. Plus, with Pingo's new soft phone feature, which works like a normal home telephone but uses the computer to dial, customers can make calls from Ghana to the US, at an amazing web phone rate of 1.8 cents per minute.
50% off Ghana phone card rates are valid for
- March Wednesdays
- April 5th to 11th
- May Saturdays
For more details and to sign up for Pingo's 50% off promotion visit www.pingo.com
April is fast approaching. Keep in touch with family and friends during the holiday with Pingo's Easter promotion at www.pingo.com/easter.do. Pingo users will receive 20% off when they sign up with coupon code 'egg' in April.
Pingo is actively looking for local events to sponsor in the Ghana community. Pingo sponsors online Ghana community websites such as ModernGhana.com, to help keep Ghanaian expats connected with families and friends online and offline.
Pingo maintains an impressive 95% customer retention rate. Pingo's customer service reps are trained to provide reliable, round-the-clock service. The global Ghana community knows the importance of staying in touch with loved ones, despite the distance. Pingo helps Ghanaians worldwide by providing an affordable virtual prepaid calling card solution. The growth of Pingo's service is now seen in this community and its customers have found the service reliable to make calls home, especially during the holidays.
Sign up now for Pingo's prepaid calling card at www.pingo.com.