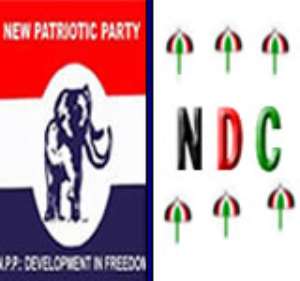 The National Democratic Congress in Tamale says they, rather than the NPP, were victims of the recent political clashes in the Tamale Municipality.
The regional chairman, Alhaji Sumani Zacharia told newsmen in Tamale on Monday he is surprised by claims by the opposition New Patriotic Party that they were targets of the recent clashes that plagued the region.
The flames of the violent clashes that claimed at least one life, and razed many houses may have been quenched for now, but accusations and counter accusations continue unabated.
A fact-finding team of the opposition NPP dispatched to the region to ascertain the causes and effects of the clashes accused the police of unfairness in efforts at conflict resolution.
According to the team, supporters of the NPP were not only victims of the clashes but arrests made by the police were only targeted at the party's functionaries.
Jake Obetsebi Lamptey, former Tourism Minister called for justice to be dispensed without delay to serve as a deterrent to others.
Joy Correspondent Mahama Shaibu reported that the NDC in the region is not the least amused with the position of their rivals.
Alhaji Sumani Zackaria categorically stated that cars and properties belonging to NDC functionaries were burnt to ashes by persons alleged to be supporters of the NPP.
Of the 19 suspects arrested in connection with the violence, Alhaji Zackaria said fifteen of them are supporters of the NDC and only 4 are supporters of the NPP.
He insisted that the victimization allegation by the NPP cannot be true.
Story by Nathan Gadugah