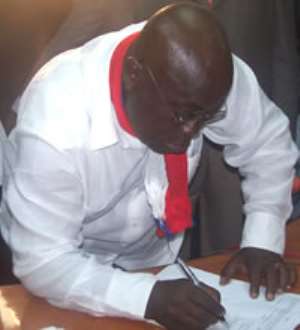 A member of the opposition New Patriotic Party (NPP) Abu Gyinapo has described Nana Akufo-Addo, flag-bearer of the party for Election 2008 as a hero of NPP in spite of the party's defeat in the last election.
Mr Gyinapo, who is also an aide to Nana Addo stressed that the large numbers of supporters who thronged the Kotoka International Airport on Sunday to welcome the flag-bearer from his foreign trip demonstrated the amount of clout he has in the party.
Hordes of loyalists of the opposition party trouped to the airport to welcome the man who led the party into an election in which it lost by a thin margin.
Mr Gyinapo, who spoke to Joy FM's Kojo Oppong-Nkrumah on the Super Morning Show, announced that the flag-bearer would soon lead a massive restructuring programme that will ensure that the NPP returns to the reigns of power in 2012.
Mr Gyinapo admitted that Nana Addo is one of the personalities being considered to lead the NPP into the next national poll, confirming speculations that the flag-bearer is already lacing his boots to contest in the race for the leadership of the party.
Mr Gyinapoh however stressed that Nana Addo will be ready to serve the party in any position he is offered.
Reacting to suggestions that the flag-bearer cut short his foreign trip to deal with alleged harassment of supporters of the NPP, Mr Gyinapo said Nana Akufo-Addo would only come out on the issues after consulting with the rank and file of the party.
"An appropriate response will be given to all those happenings," he stressed.
Story by Fiifi Koomson