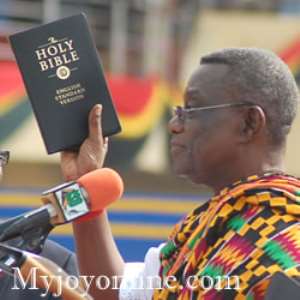 President J.E.A. Mills has sworn eight ministers and deputy ministers into office at the Castle, Osu.
The eight officials, comprising five deputy ministers and three ministers of state, on Monday swore the oaths of office and of secrecy in accordance with the provisions of the 1992 Constitution.
The deputy ministers are Dr Joseph Annan for the Education Ministry; Mr Emmanuel Armah Kofi-Boah and Dr Kwabena Donkor for the Energy Ministry; Mrs Elizabeth Amoah-Tetteh for the Education Ministry and Mr Seth Terpker for the Finance Ministry.
The president also administered the oath to the following as ministers of state at the presidency: Mr. Abdul Rashid Pelpuo, Mr. Tawiah Likpalimor and Alhaji Seidu Amadu.
President Mills also handed the ministers their instruments of office.