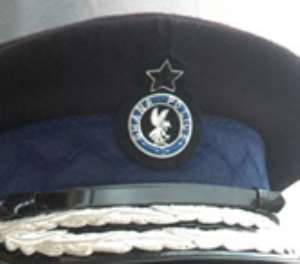 The Enquirer newspaper reported on Monday that a senior police officer, last Friday openly threatened to kill a senior reporter of the Enquirer newspaper, as has been happening in war-torn Sudan, where he said pressmen are killed-all the time.
"Aren't you a human being? Aren't journalists humans? Don't you get killed in Sudan all the time? Kwasiasem (Nonsense!). I can kill you," he said to Larry-Alans Dogbey, the senior reporter, in the presence of a lawyer who had invited the investigative journalist to witness how his client had been tortured at the Criminal Investigations Department (CID) Headquarters, and refused medical attention.
The Enquirer's checks later revealed the name of the senior police officer as one Superintendent Sarfo Agyemang.
The police officer also accused journalists who cover activities of the police administration of collecting bribes from the law enforcement institution, and insisted he personally dished out bribes to pressmen, when he served as Aide-De-Camp (ADC), to Nana Owusu Nsiah, onetime Inspector General of Police (IGP).
The senior police officer, who at the time only identified himself as "the Superintendent in-charge of Crime Unit," claimed journalists always received bribes, but when a policeman collected a bribe that made the news, simply because journalists have the pen.
Dogbey has lodged a complaint over the death threat at the Cantonments Police Station in Accra, against the senior police officer, who also claimed to be a qualified lawyer and a member of the Ghana Bar Association (GBA).
The Cantonment Police, in the presence of the lawyer, Mr. Shahadu Mohammed, issued a Police Statement Form to be filled, to be submitted to the CID outfit.
"Who is a journalist? What do we care about a journalist? Aren't they like us? They are fallible? They collect bribes ... they come here to collect bribes. Journalists come here to collect bribes. I have even given them money before when I was ADC to Nana Owusu Nsiah.
"As soon as they finish, they say 'Item 13.' What is Item 13? Is it not bribe? Is it not bribe? They have been collecting it. I go to Nana; Nana please your people are saying, 'Item 13.' What is Item 13? Is it not bribe? Who are they? They've been collecting bribes. I can vouch on it. They always took bribe here," insisted the emotionally charged Police Superintendent in the presence of some policemen, one of them identified as Corporal Patrick Mensah.
Mr. Agyemang, uttered the words after he had been informed by a lady subordinate in-charge of the CID Charge office last Friday that counsel for Lance Corporal Karim Muntari, one of the suspects in a Dzorwulu Hotel robbery incident, had called Dogbey to the Police Headquarters to witness his failed attempt to have his client sent to the Police hospital for treatment, after he was tortured.

Lance Corporal Muntari is part of a gang of policemen and civilians, who stormed the hotel in February on the orders of DSP Patrick Kwarpong of the Rapid Response Unit, to arrest Mr. Kwaku Duah.
Muntari, voluntarily reported himself to the police, where he has been on remand on the orders of the court. Among all the culprits, his statement points out that they were sent by DSP Kwarpong to arrest Mr. Duah, who was said to be buying cocaine, seize his money, and bring him to the Tesano Police depot.
Muntari, who has since incurred the wrath of his colleagues for changing their storyline, was taken out of his police cell, only to be returned after being subjected to rounds of torture, when an attempt to have him implicated in another robbery case involving a policemen failed to materialize.
Dogbey witnessed his condition as well as the frustration encountered by Muntari's lawyer at the hands of the Police in his attempt to have his client taken to the Police Hospital for treatment of the injuries he had suffered from the torture.
In a hysterical mood, Superintendent Agyemang denied any involvement in torture and accused journalists, particularly those with newspapers, for holding people-to ransom, adding that he was not afraid of any journalist because he could have chosen to study journalism, having been called to the Ghana Bar as a qualified lawyer.
"Give us a break! If I have been able to do a four-year course, why can't I do a two-year course over here," he said pointing towards the Osu Ringway Estates, where the Ghana Institute of Journalism (GIJ) is located in Accra.
Superintendent Agyemang, had stormed the CID Headquarters in his green Nissan saloon car with registration number GW 346 S, on the instructions of National Security-Castle Annex and the Office of the Vice-President, for the torture victim to be taken to the hospital for treatment.
"I don't fear any paper. I don't fear anything; he can even send it to the BBC. What I am telling you is that we are all fallible; the journalists are fallible and we (police) are also fallible. "Who are journalists? Are they God, so they should behave as if they are angels? They are not angels," he stressed.
Prompted by the suspect's lawyer, Mr. Shahadu Mohammed, that as a lawyer and police officer, he should have known that it was wrong to offer bribes, Superintendent Agyemang, retorted:
"I don't care. I don't care. I don't fear anything. I only fear my boss and God. Are you going to sack me from this place? Can a journalist sack me from this place? What haven't I seen before?
It took the combined efforts of the National Security and the Office of the Vice-President to have the torture victim taken to the hospital for treatment, after several attempts by his lawyer, including calls to the Police Director of Operations, Mr. Patrick Timbilla, yielded no results.