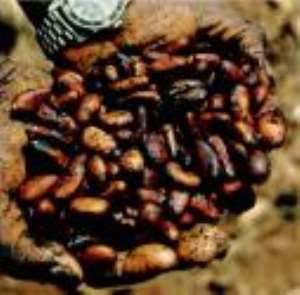 By Emily Bowers
March 16 (Bloomberg) -- Ghana's cocoa board will seek as much as $1.2 billion in loans from international banks this year to finance its purchase of the beans from growers next season, said Chief Executive Officer Tony Fofie.
The West African nation is confident of raising the funds, even as banks curb lending because of the global financial crisis, Fofie said in an interview in the Ghanaian capital, Accra, on March 13.
"We've got a good track record with most of the international banks," Fofie said. "You need to be circumspect, but we're not really worried."
Ghana is the world's second-biggest cocoa producer, after neighboring Ivory Coast. Last year, the country raised $1 billion from 23 banks including Societe Generale and Standard Chartered Plc. The loan is being used to purchase the 650,000 metric tons that the board, known as Cocobod, estimated farmers will produce this season.
Cocobod has bought 530,000 tons of beans from growers since the season began in September, Fofie said. The board had set a production target of 600,000 tons for the 33-week-long main crop and an additional 50,000 tons for the mid-crop that is harvested between June and September.
"The purchases started on a very slow note, but it's picking up," Fofie said. Cocobod researchers who last month visited the cocoa-producing central part of the country "say we're going to achieve our target."
Cross-Border Smuggling
Purchases have been hampered by smuggling across the border to Ivory Coast. Farmers in Ghana receive a fixed price of 1,632 cedis ($1,161) a ton for their beans, while in Ivory Coast, fewer controls and poorer-quality beans enable Ghanaian farmers to obtain more money for their crop.
"If we hadn't had a lot of smuggling going on we would have been able to get this target and more," Fofie said.
Smuggling becomes more prevalent when the world market price climbs, he said.
Cocoa for May delivery declined 16 pounds, or 0.9 percent, to 1,810 pounds ($2,572) a ton at 10:35 a.m. on London's Liffe exchange. The price has risen 1.6 percent so far this year.
Ghana guarantees farmers will get at least 70 percent of the price the board receives for its cocoa and Fofie said there are no plans to reduce that level.
The board subsidizes fertilizer for farmers and provides chemicals to control pests and diseases as the country aims to increase is annual yield to 1 million tons by the 2010-2011 harvest, a target which Fofie said can still be achieved.
"You can increase the yield through improved farmer practices, through application of fertilizer and through the reduction of pests and diseases," he said.
Cocoa trees are susceptible to black pod fungus, leaf- eating caterpillars and other pests which can spread quickly on the country's small-scale farms where cocoa is grown.
The board will start its annual spraying program in May, targeting production for the 2009-2010 harvest, Fofie said.

To contact the reporter on this story: Emily Bowers in Accra via Johannesburg at [email protected].