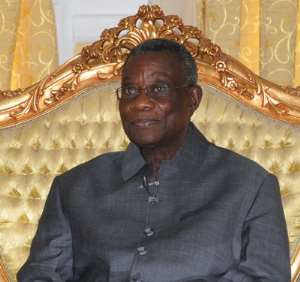 H. E. Prof. John Evans Atta Mills, President of the Republic of Ghana
President J.E.A Mills has challenged government appointees to remain steadfast in the face of world economic difficulties and go the extra mile to better the lot of Ghanaians.
'We have come to office at a time when there is a global financial crisis but I know that we have what it takes to build a strong economy,' he stressed.
The President said this when he opened a three-day retreat for ministers and people nominated for deputy ministerial positions at the Ghana Institute of Management and Public Administration (GIMPA) in Accra last Saturday.
He also urged them to be sensitive to public opinion, be wary of impostors and those who might attempt to tempt them in the discharge of their duties.
He said with their appointment, there will be challenges, but reminded them to ask God for the spirit of discernment and be careful of people who came around, especially in the wake of Ghana's oil find.
They will also be oriented on why national interest must be a priority, non-interference with due process, using the tenets of the Constitution as a guide and why their activities should not be 'business as usual.'
The retreat is bringing together leadership experts at the institute and will also discuss issues to reconcile thoughts and ideas of the 'contract' the ruling National Democratic Congress (NDC) signed with the people of Ghana during the electioneering last year.
President Mills reminded the participants that the government went into the elections with the promise of building a better Ghana, for which reason their attitude to work must not be 'business as usual.'
He charged them to exhibit openness, honesty and transparency, explaining that the position of minister was that of sacred service requiring transparency, humility and modesty.
The President urged the appointees to let Ghanaians feel that they had not misplaced their confidence in them, adding that in spite of the tough times they would face, they should remain focused and not be scared or despaired.
He urged them not to regard any ministry as too small, saying that they were all part of the wheels of government, each of which must contribute to its effective functioning.
The president advised the participants to take the workshop seriously and ask questions, since nobody was re-inventing wheel.
The Rector of GIMPA, Prof Agyeman Badu, said the participants were uniquely placed to manage the affairs of the nation considering the global economic downturn and urged them to consider their constituents in everything they did.