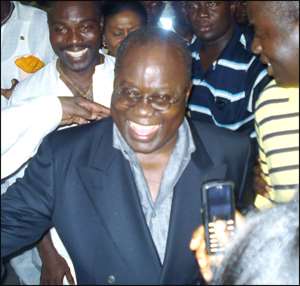 Nana Addo arriving at the airport yesterday A Mammoth crowd of New Patriotic Party (NPP) supporters as well as top-shots of the party invaded the arrival lounge of the Kotoka International Airport in Accra yesterday to welcome the party's flag-bearer for the 2008 elections, Nana Akufo-Addo.
The flag-bearer of the opposition party and his wife, Rebecca Akufo-Addo, arrived last night from a tour of Europe and the United States.
Momentarily, it was as though there was a political rally at the airport as the NPP members were dressed in an assortment of party paraphernalia, and were literally on a free-for-all jamboree, as some of them trooped to the airport as early as 3.00pm though Nana Addo was to touch down around 7:00pm.
While some arrived in vehicles that were decorated in party colours with their horns tooting recklessly and loud music blaring, others trotted on foot to the airport in groups as they chanted NPP songs and slogans.
The attitude of the NPP supporters was that of a uniformed enthusiasm and delight, quite uncharacteristic of a political party in opposition.
First Deputy Speaker of Parliament and MP for Dome Kwabenya, Prof. Mike Oquaye; MP for Ayawaso Central, Sheikh I. C. Quaye; MP for Okaikwei South, Nana Akomea; former Ambassador to Serbia, Dr. Nyaho Tamakloe as well as a host of former ministers, parliamentarians and party leaders were part of the welcoming team at the airport.
Nana Addo did arrive via the VIP lounge and the crowd went into a rather death-defying frenzy when they saw him.
Security officials at the airport had a hectic time controlling the crowd as the party members hustled and bustled to catch a glimpse of the opposition leader, and eventually police personnel had to be called in as a back-up security.
The crowd followed Nana Addo all the way from the airport to the Nima residence of his late father where they made merry and danced to loud party music.
Nana Addo, in a brief interaction with the media, expressed delight at the strong spirit of the NPP and expressed the hope that the party would maintain its strength and unity and eventually be voted back into government.
Journalists present were rather disappointed that Nana Addo chose not to comment on current affairs in the country including reported cases of abuses against his party members.  
When asked what his thoughts were on these matters, Nana Addo said he would rather not comment until he had met with his party and colleagues for them to deliberate and then come out with an appropriate response.
He said though he kept an eagle eye on Ghana while in Europe, he would still want to be properly briefed by his party before he speaks his mind on a number of developments in the country.
He however gave the assurance that at the appropriate time and avenue, deserving comments and responses would be made by him on those matters.
By Halifax Ansah-Addo