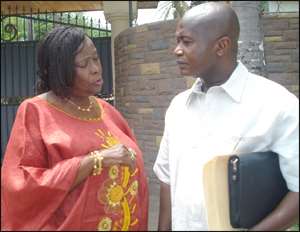 ·Ama Busia interacting with Stephen Ntim President John Atta Mills has been asked not to turn a blind eye to the recent cases of harassment and unmannerly treatment being inflicted on former President John Agyekum Kufuor and his family.
Leaders of the Brong Ahafo Patriotic Caucus (BAPAC) have noted that the recent harassments against Kufuor and his family had made it difficult to accept President Mills' rhetoric of "being a father to all and uniting Ghana".
Speaking to journalists at the Airport West residence of the ex-President, Stephen Ntim, a former National Vice Chairman of the New Patriotic Party (NPP) and a leading member of BAPAC, said the group would not sit unconcerned as Kufuor is treated in a way that is demeaning and not acceptable by law.
He said John Kufuor is a pivotal backbone of the NPP and the party would not allow his name to be unfairly dragged into the mud.
"Recent developments on the political playground give us cause to worry especially when a man, who has distinguished himself so well, is being harassed unnecessarily," Mr. Ntim noted, and added that his group would explore every means to halt the said harassments.
Mr. Ntim said it could be that President Mills is still oblivious of the unfair treatment being meted out to John Kufuor, thus BAPAC would be holding a number of activities including a media encounter and peaceful demonstrations to draw his attention to the issue.
The group, on Saturday morning, called on John Kufuor at his residence to show solidarity to him and his family and also to pledge their support for him.
"BAPAC condemns in the strongest terms, the illegal way your vehicles which were part of your entitlements were retrieved and now the unwarranted brouhaha over your Ridge office building.
"BAPAC will stand shoulder to shoulder with you in these difficult times; we are ever prepared to offer our assistance as and when it is needed and will do everything within our means to make sure our fledgling democracy is sustained and developed in freedom," the group noted in a statement to the ex-President.
Other members of BAPAC that called on John Kufuor included Madam Ama Bame Busia, Prof. Christopher Ameyaw Akumfi, Mr. K.T. Obeng and Mr. Buafour Awuah.
By Halifax Ansah-Addo