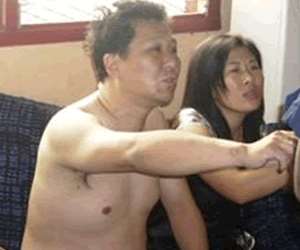 Not even theatre goers could have had a better deal than the drama that unfolded last Tuesday in an Accra Circuit Court under the gavel of Justice Elizabeth Ankomah when The New Crusading Guide's Ace Investigative reporter, Anas Aremeyaw Anas, came face-to-face with the 'dons' of the Chinese sex mafia.
The court had asked the reporter to come and play the audio and video evidence he had gathered in his six months investigations into the operations of the Chinese sex mafia within the West African sub region.
The three dons, James Xu Jin, (first accused) Chou Xiou Ving, (second accused) and Sam Shan Zifan (third accused) were visibly shocked when the reporter started playing on a big screen, their activities of engaging the Chinese girls for exploitation.
They could not dispute the content of the video "that is Sam taking money from that Whiteman and delivering that Chinese girl to the client for sexual exploitation. I am the one standing there in white with a bow- tie disguised as a bar tender and serving the alleged trafficker with beer in the hotel" Anas explained while playing the evidence to the court.
Counsel for the accused persons Mr. B. O K.Johnson, Police Prosecutor ASP Ms Mary Agbozo were all present when Anas who was also the complainant in the case showed the evidence. Earlier Anas had tendered 8 audio clips, 2 videos, 9 transcript of conversations and photographs all marked as exhibits to the court.
In his evidence- in- chief, Anas narrated how he conducted his investigations to the court, pointing out that his investigations were motivated by his interest in saving humanity.
He narrated how he posed as a bar tender in a hotel to obtain evidence of the girls being sexually exploited. He explained that he befriended a lady in the residence of the traffickers in order to get information on their operations at their La residence (Agyeman) a suburb of Accra.
He told the court that, he monitored the girls for over six months within which he saw them being sent out to casinos, hotels and saw men also coming out from the residence of the accused persons. He also added that, one of his sources had also been having conversations with the victims, in connection with their activities and had on tape all the conversations.
During the cross examination by the defense counsel, Mr. B. O K. Johnson, Anas (witness) indicated that his friendship with the house maid of the accused persons was not amorous, but one of his ways as an undercover journalist to get information to prove his case.
He denied an allegation that the housemaid of the accused smuggled him into the house saying "I was smuggled into the room by a source found condoms in the house, and picked only one which was unused from the first room".
Defense counsel also accused the witness of desiring to have sex with the girl he befriended in the residence of the traffickers but could not succeed because, James Xu Jin, (first accused) intervened and truncated the process. He said that witness had some hatred for first accused for truncating his sexual encounter and thereby decided to go undercover to do story to humiliate his client.
"I put it to you that you wanted to have sex with the Chinese girls and when they refused, you developed hatred for them and thereby did this investigation, your investigation was borne by malice towards my clients". The defense counsel told the court. "It is not so my lord", Anas answered, the "Chinese girls do not have sex with blacks".
Mr. B. O. K Johnson also told the court that the money that was charged in the second operation of the witness was $100 not $150 as claimed by the witness saying "I put it to you that the money which was paid in the second operation was $100 and not $150"
All seven victims who testified in court were seen trembling anytime they recounted the harrowing experiences they went through during their sexual activities. They therefore pleaded to be protected by the court for fear of being killed by the accused persons, who they regarded as very powerful.
The girls, (names withheld) gave account of the fact that, Jin brought them to Ghana and for that matter they owed him and had to work to pay for their air fares and other traveling documents which Jin secured for them to facilitate their trip to Ghana.
One of the victims, an 18 year old girl from Shangai in China could not hold back her tears as she narrated her story in the presence of the judge, journalists, prosecutors and defense counsel in chambers. The accused persons who were made to stand close to the door to enable them hear the proceedings were shocked beyond description. She stated that she was deceived by the accused persons that she was coming to Ghana to work in a Chinese restaurant only to end up in prostitution.
According to the teenage girl, Jin and his wife Chow were her neighbours in china and that her parents allowed her to follow them because they assured her parents that, they were going to take good care of her.
She admitted that, her family was poor and that her father owed her uncle and her auntie some money for a surgery performed on her father's leg. She narrated that her father suffered injuries through an accident on his way to pick her up from school; this also resulted in her becoming a school dropout.
She disclosed that her passport and other traveling documents were secured by Jin and after meeting at shanghai she was introduced to two other girls who came to Ghana with her.
When they arrived in Ghana, the accused persons sent them to casinos but did not tell them exactly what to do. Later she was forced to sleep with a Lebanese, which was her first encounter in December 2007. She said she tried to resist the man but James severely beat her and told her he owned no restaurant. She reiterated that their slave master only made them have sex with white people and not blacks.
She also said that anytime she refused Jin's demands, she had to pay a penalty of $ 50 a day. 'I had no choice but to do as I was told because I could not raise that amount' Her slave master charged $70 per night or $40 per hour for men to sleep with her but kept all the money to himself with the justification that he was using the money to settle a $6, 000 debt accumulated from her visa and air fare.
During cross- examination from counsel of the accused persons, Mr. O K Johnson, the witness told the court that, she could not tell her parent she was prostituting because it was an embarrassment.
She said even though she knew the brothel was close to the La police station, she could not report the incident for fear of her life and those of her family back in china.
However, the police are still searching for three of the victims, who were not available on the day of the raid.
Hearing continues on Saturday 15th march, 2009 where our reporter is expected to be further cross examined.