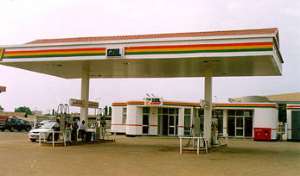 A pressure group, Movement for Ghana, has called on the Mills administration to further reduce fuel prices.
The group said the reduction announced by government two weeks ago is not significant to impact positively on the life of the ordinary Ghanaian.
At a press conference in Kumasi, the group vowed to pressure government until it reviews the price of fuel to the level it promised during the electioneering campaign last year.
Chairman of the MOG, Abu Rahman, also raised concerns about what he says are frivolous expenditure of the Mill's administration.
Speaking to Luv FM's Yaw Ansu-Gyeabour, he said, "Asiedu Nketiah (General Secretary of NDC) on the 11th of December, promised Ghanaians in Winneba that when they win power they are going to…reduce fuel to as low as GHc 2."
According to him, at the time the promise was made crude oil was selling at $52 per barrel.
Now that crude oil is selling at $38-39, the government has no excuse but to reduce the price of the commodity significantly.
Fuel price reduction of about Gp5 per litre, announced by government has generated a huge debate.
While some argue the price could go down further, others say the reduction is cosmetic and should not have been done.
They argue that since the reduction will not benefit the majority of the people, it was better government did not to do it and lose revenue.
Story by Malik Abass Daabu