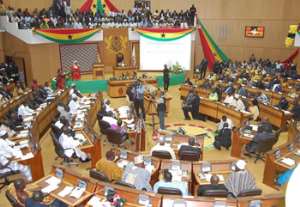 Educational qualification should be made a pre-requisite for becoming a Member of Parliament, Prof. Philip Bondzie-Simpson, Dean of the School of Business, the University of Cape Coast (UCC) has said.
He explained that this would eliminate illiterates and semi-literates from entering into parliament. "Parliament is a place where we enact laws and consider important bills and therefore, we need serious and knowledgeable people there," he stated.
Prof. Bondzi-Simpson made the call at a public lecture organised by the university on Thursday. He spoke on the topic, "The right constitution: a re-statement of the case for a review of the Fourth Republican Constitution".
Prof. Bondzi-Simpson suggested that the qualification into Parliament should be at least the tertiary level saying that "people who don't have no basis for being there".
It would also help to address the habit of some MPs not knowing what was being discussed on the floor of Parliament, he noted, explaining that "we should insist on this so that our MPs can deliver." Additionally, he called for the abolishing of the Council of State due to its ineffectiveness over the years pointing out that the Council of State System is a waste of time and money.
Prof Bondzi-Simpson said that the Council of State is a replica of the Council of Elders of the traditional system which does not have any power of the governance of the state.

He criticized the election of regional representation to the Council of State, where two representatives from each district elect the regional representative as not the best.
The President, he said, could also choose to nominate those close to him to form the Council of State to advise him.
Prof. Bondzi-Simpson further suggested constitutional review on the number of constituencies to be created in the country.
The demarcation of constituencies, he said should not be the sole responsibility of the Electoral Commission saying, '''we should not leave it to the EC".