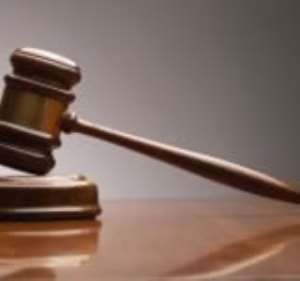 Three persons described as hardened armed robbers operating in some parts of the Kumasi Metropolis, were Friday jailed a total of lOO years in hard labour by a Circui Court.

They are Richmond Gyebi, also known as 'Sammy Tuga', 28, Kofi Owusu, known as 'Kofi Ayisam', 24, and Patrick Tieku, also known as 'K. Badu', 22.
The three accused persons pleaded guilty to the charges of conspiracy to rob and robbery before the court, presided over by Mr Justice Adjei Frimpong.
Gyebi was given 40 years while Owusu and Tieku had 30 years each.
According to Lance Corporal Godwin Mahanoy of the Ashanti Regional Police Public Affairs Unit, Gyebi, described as a jail bird, had had two previous cases of robbery before the same court.
In one of the cases, he was acquitted and discharged for lack of evidence, and in the second case, he was granted bail to appear before the court on March 10, but he was arrested for thje new crime three days to the date of appearance.

Prosecuting, Chief Inspector Mary Afenyi told the court that at about 11 pm on March 5, the accused persons trailed a lady caterer who had a1ighted from a taxi at Emmena and was heading home.
But, at a point, they ordered her to stop and hand over her handbag, and as she hesitated they attacked her. Tieku, wielding a machete, snatched the bag which contained some jewellery, mobile phone and cash and fled.
The following day, she reported the incident to the Police Buffalo Unit and police personnel accompanied her to the area where she identified Tieku and Owusu at a drinking spot.
On March 7, the two accused persons led the police to Gyebi's hideout where he was also arrested.
The prosecution said the accused persons in their statement to the, police, admitted the crime and pleaded for leniency.