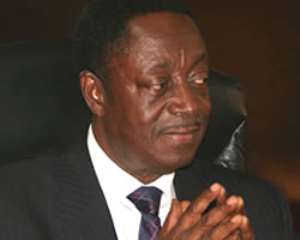 Ghana's annual inflation rate increased to 20.34 per cent in February, from 19.86 per cent in January, the highest in more than five years.
The continuous rise in inflation is the result of food price increases and the depreciation of the cedi against the major international currencies such as the US dollar and the UK pound.
Dr. Grace Bediako, Government Statistician who announced this at a news conference in Accra on Friday, said February's inflation rate was the highest since January 2004, when it was 22.4 per cent.
However, she said, the increase in the inflation rate was "not unexpected" as annual price increases announced in December usually continue in the first two months of the year.
The Bank of Ghana in February, increased its key lending rate by 1.5 points to 18.5 per cent at its last monetary policy committee meeting.
Dr. Bediako noted that, the government, in this year's budget, outlined a series of policies aimed at controlling the depreciation of the Cedi, and said, "we hope the policies outlined would arrest the situation and ensure the stability of the local currency".
The cedi has dropped 18 per cent against the dollar in the past six months, in reaction to concerns that the country will struggle to finance its widening current account and fiscal deficits.
Asked if the government's target of reducing inflation to 12.5 per cent by the end of the year was achievable, Dr Bediako said "it is a target and it depends on the various policy initiatives that the government will take; it would be hard to say whether the target would be met."
Presenting the budget last week, Finance Minister Kwabena Duffuor announced measures to rein in government spending in many areas, while also trying to create jobs and improve some social provisions in line with President Mills' election manifesto.
Giving the regional inflation figures, the Government Statistician said inflation rates recorded in the regions range from 14.37 per cent in the Volta Region to 28.61 per cent recorded in the Upper East and West.
"Four regions recorded inflation rates above the national rate of 20.34 per cent," she said.

When the Times contacted Dr. Robert Osei, Senoir Fellow at the Institute of Statistical, Social and Economic Research (ISSER), on the implications of the surging inflation on Ghanaians, he said "the heat is being felt by Ghanaians already, as prices of foodstuffs on the market are on the increase".
He said the disposable income of the poor, particularly those in the urban areas, would be put under severe pressure if the trend should continue.
"In the rural areas, the effect would not be felt too much as the urban poor because most of the country's foodstuff comes from the rural areas," he said.