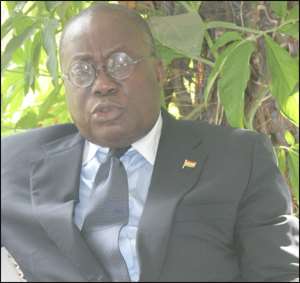 Nana Addo DAILY GUIDE has gathered that the Kotoka International Airport in Accra would tomorrow evening be crawling with members of the New Patriotic Party (NPP) who would troop there to welcome the party's flag-bearer, Nana Akufo-Addo, who is touching down from Europe on a British Airways flight.
The party's leadership as well as a number of celebrated music artistes who campaigned for him during the 2008 elections would also be at the airport to welcome Nana Addo who had been meeting with a number of high profile politicians in Europe and America as well as the Ghanaian community there.
Reports said the party members who would be trooping to the airport to welcome their flag-bearer were of the view that he was a father figure who was concerned about the abuses being meted to them.
The flag-bearer, who was on a tour of Europe and the United States, had reportedly cut-short his trip and would be arriving tomorrow evening partly because he was inundated with calls from the rank and file of his party, who felt they could no longer endure the continuous nature of the well-orchestrated abuses being unleashed on them.
Indeed, there had been police reports that indicated that several NPP supporters in many parts of the country were being brutally assaulted and their homes set ablaze by known activists of the ruling National Democratic Congress (NDC).
Nana Addo himself, while in Europe, had his private Land Cruiser forcefully snatched by operatives of the NDC and sent to the Seat of Government at the Osu Castle where it was kept overnight on allegations that it was a stolen vehicle belonging to the state.
Investigations by the Castle later proved it was a private car.
As if under a military regime, private cars belonging to bigwigs of the NPP are being snatched from them by certain elements of the government under circumstances quite unacceptable by law. Occupants of such vehicles are usually asked to get down and hand over the keys and in other situations, the residences of the NPP big-shots are besieged and the cars towed away in the full glare of the public.
Sources said the NPP is at its wits end in a bid to keep members who would be going to the airport under control.
Though Nana Addo was on record as having said he was not eager to criticise the mistakes of the new government because the latter ought to be given some time to properly settle down, sources close to him said while in Europe, he kept an eagle eye on Ghana and closely monitored the country's current affairs.
He was reported to have on a number of occasions restrained his party members from taking the law into their hands to defend themselves when they felt the system was not eager to protect Ghanaians who did not share the same political ideologies as that of the government.
By Halifax Ansah-Addo