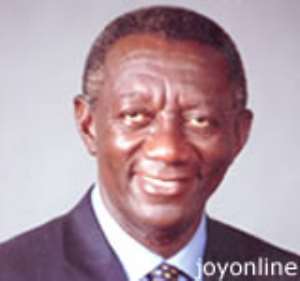 The World Bank on Friday announced the membership of an independent, high-level commission tasked with making recommendations on how the institution is governed so that it can better fulfill its mission of overcoming global poverty.
John Kufuor, former President of Ghana, is a member of the commission.
The commission was created by World Bank Group President, Robert B. Zoellick in October 2008 to focus on the modernization of World Bank Group governance so the World Bank Group can operate more dynamically, effectively, efficiently, and legitimately in a transformed global political economy. It will report back at the World Bank Group's October 2009 Annual Meetings.
"By bringing the perspectives of a diverse group of leaders from outside the institution, the high-level commission will complement the Board's important work on internal governance reform," said Zoellick. "I thank the commission's members for their willingness to take on this important task and encourage them to be bold and far-sighted."
The 12 members of the commission, chaired by former Mexican President Ernesto Zedillo, have all held or hold senior positions at an international level and are drawn from developed and developing countries.
Announcing the commission's membership in London, World Bank Group Managing Director Ngozi Okonjo-Iweala said: "The commission is timely as it further enhances the voice of developing countries in contributing to governance reform within the World Bank Group."
Members of the high-level commission on the Modernization of World Bank Group Governance:
· Dr. Ernesto Zedillo, former President of Mexico
· Dr. Arminio Fraga, former President of the Central Bank of Brazil
· Dr. Rima Khalaf, former U.N. Assistant Secretary General, Director of the Regional Bureau for Arab States at the United Nations Development Program, and former Deputy Prime Minister of Jordan.
· Mr. John Kufuor, former President of Ghana
· Mr. Pascal Lamy, Director General of the World Trade Organization (WTO)
· Mrs. Sadako Ogata, President of Japanese International Cooperation Agency (JICA) and former United Nations High Commissioner for Refugees
· Mr. John F.W. Rogers, Secretary to the Board, Goldman Sachs
· Mr. Herman Wijffels, former World Bank Executive Director and former Chairman of the Board of Rabobank
· Mr. Montek Singh Ahluwalia, Deputy Chairman of the Planning Commission, India
· Baroness Shriti Vadera, Minister for Economic Competitiveness and Small Business and former Parliamentary Under-Secretary of State in the Department for International Development, United Kingdom
· Mrs. Heidemarie Wieczorek-Zeul, Federal Minister of Economic Cooperation and Development, Germany
· Dr. Zhou Xiaochuan, Governor of the People's Bank of China
Background on other recent World Bank Group reform initiatives
Recently, the World Bank's Board of Governors approved a first phase of reforms to increase the influence of developing countries within the World Bank Group, including adding a seat for Sub-Saharan Africa to allow developing countries a majority of seats on the Executive Board, and expanding voting and capital shares. Since Zoellick became World Bank Group President, 7 of 9 of his senior appointments have been from developing countries.