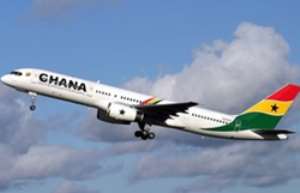 The government of Ghana is worried about the current state of Ghana International Airline (GIA) but is in no hurry to take any quick decision.
The Transport Minister, Mike Hammah has said the government is deeply concerned about the state of affairs at GIA and would undertake a diagnostic study before taking any decision about the airline which owns over 55-million dollars.
The debt incurred by GIA came as a result of government's decision to forcibly remove management of the airline without recourse to agreement.
He announced that the government has been supporting the airline with one million and five hundred thousand dollars monthly and pointed out that he does not understand why an airline established over five years ago could incur such a huge debt while Ghana Airways which came into being at Independence was also owning over 184million dollars .
GIA-USA is battling the government over the management of the airline in the International court of justice based in the Hague.
Government of Ghana has 70 percent shares whiles GIA-USA controls the remaining 30 percent but the GIA-USA under the agreement manages the company. Hon Mike Hammah said the government would take a decision after they have completed their investigations into the state of the airline.
Unconfirmed reports have indicated thay staff of the airline have not been paid their February salary because the government has not released the money meant for the running of the company.