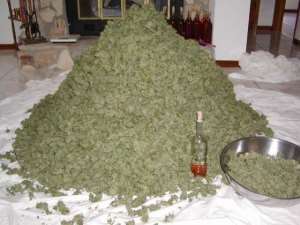 The Police in Ho have busted some 8 persons trying to transport weeds believed to be Indian hemp (Marijuana) to Aflao through Ho from Dzemeni. Upon a tip-off at about 3:300pm on March 11, 2009, the Police in Ho mounted surveillance at Afifekofe (Sokode-Lokoe) and an Isuzu passenger bus with registration number CR 592 R carting dried weeds identified as Indian Hemp (Marijuana). The narcotics were sacked in 8 "Ghana-Must-Go" bags which contained 136 compressed parcels wrapped in polythene.
The 6 occupants in the vehicle arrested by the police were, Fiave David Kumah, 24, the driver; Atsu Ernest, 25, his mate; Gabriel Akpalu, 24, a butcher; and Paul Agbeke Kormla, 18, unemployed, are all believed to be couriers of the drug. Upon interrogation, Gabriel Akpalu and Paul Agbeke claimed owners of the items and intimated that they were sent by one Daniel Agbeke and Godsway Agbeke to cart the stuff to Aflao. On March 12, 2009, the following day, Daniel Agbeke, aged 68 and Godsway Agbeke, 23, an HND Building Technology student of Accra Polytechnic upon hearing the arrest of their couriers came to the Police Regional Headquarters in Ho with an amount of GH¢800.00 to bribe the Police for the release of the suspects. The two, Daniel Agbeke and Godsway Agbeke were also arrested.
In a related incident, Kofi Ahiagbe, aged 62, from Dzodze in the Ketu South Constituency was also arrested with one (1) "Ghana-Must-Go" bag fully loaded with weeds also identified as Marijuana, wrapped in a huge transparent polythene bag. He was busted at a snap check point in Kpeve in the South Dayi Constituency on Tuesday, March 10, 2009 at about 3:30pm when he attempted transporting the stuff from Dzemeni to Dzodze Nuafe. The nine suspects were due to appear before the Peki Circuit Court on Friday, March 13, 2009, as at the time this report was filed.
DCOP Rose Bio Atinga, the Volta Regional Police Commander, speaking to the press says, the Police service is up to the ground with information of anyone who peddles drugs and that if they do not desist from the "illegal business", the law will not hesitate to grab them. He urged the general public to get information to the Police should they know some one or group of persons who deal in narcotics. "The Police is ever ready to follow up on any information. For the peddlers, we will come after them", she concluded.
Story by:
ELORM BIMPEH,
HO – VOLTA REGION.
[+233 027 125 4480 / +233 028 5357 540 / +233 020 5534 775]