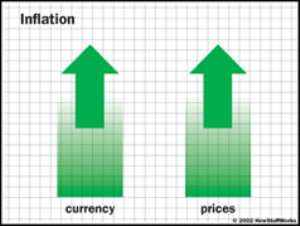 inflation has gone up to 20.345 from the the January figure of 19.86%.
The figure which is 0.48 percent higher the that of its preceding month is the highest since January 200 when inflation hit 26 percent.
Statistics for the March also saw regional inflation figures running higher than the national average.
On regional inflation rates, the Upper West and Upper East recorded the highest of 28.61 while Volta had the lowest of 14.37%.
Four regions recording rates above the national rate of 20.34%.
Government statistician, Dr. Grace Bediako who presented the figures to the media said non-foods contributed 11.76% while foods added 8.58%.
Urban inflation stood higher with 22.49 percent while rural inflation held at 20.01.
Dr. Bediako hinted that the high levels of inflation should not give cause for alarm as it was expected.
She said however that the cedi's depreciation among other factors also largely contributed to it.
The upward review of the prime rate could not have contributed to the 0.48 increase in the inflation figure, she added.