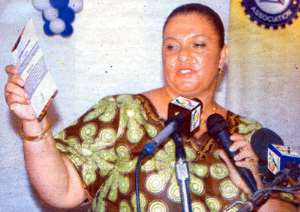 Trade Minister, Hannah Tetteh launching the GEA's brochure to usher in the jubilee celebrations. The Minister for Trade and Industry, Madam Hannah Tetteh has said, it is the responsibility of the Government to formulate and execute a policy agenda that creates the favourable macro- economic conditions required for business sector employers to flourish.
She made the call at the launch of the 50th anniversary celebrations of the Ghana Employers Association (GEA) on the theme, 'The Role of GEA in Ghana's Transformation' in Accra, yesterday.
Madam Tetteh added that Government will ensure a proper co-ordination of related policy areas with focus on improving and sustaining macro-economic stability, resource mobilisation to support accelerated development and the expansion of infrastructure in energy, transportation, communications and the provision of water.
'We will focus on creating employment through support for micro, small and medium enterprise, modernising agriculture, resuscitating manufacturing activities, develop the human capital critical for managing various aspects of national development and promoting regional integration' she stressed.
She also noted that for the industries and businesses to become globally competitive, they must focus not only on the targets they wish to achieve but rather on doing things in the most efficient and effective manner.
She called on private sector employers to formulate a strategic framework for private sector development and move away from ad-hoc interventionist responses.
Mr Charles A. Cofie, President of the GEA, in his address stated that the Association was formed to promote harmonious working relationship between employers and their workers through the use of dialogue, negotiations, discussions and consensus-building to ensure enterprise growth and investment attraction as well as present the views of employers to Government towards the economic reconstruction of the country.
He said, GEA has gone through a lot of challenges in trying to remain focused and advocate on the objectives of the founding fathers, which is to strive for a congenial climate conducive for business and industry.
Mr Cofie also urged members to remain united and speak with one voice as one body to advocate for business friendly laws and policies that engender enterprise growth and national prosperity.