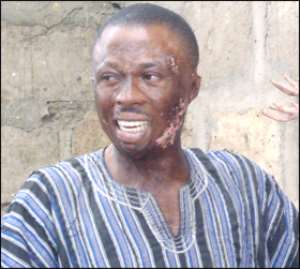 Kweku Bonsam NANA KWAKU Bonsam, a popular fetish priest at Akomadan-Afrancho in the Offinso North District of the Ashanti region, says the gods in the country are angry hence the many road accidents.
Since the beginning of the year, the nation has recorded numerous gory road accidents that have claimed many lives and injured scores of people.
Addressing a press conference in Kumasi, Kwaku Bonsam said the angry gods were causing these accidents because politicians who sought assistance from deities and oracles to win power have refused to perform the necessary rituals to show appreciation to them.
The traditional worshipper observed that until those politicians came back to their senses and performed the required rituals to appease the gods, worse calamities would befall the nation in the not-too-distant future.
He said what the gods abhor most is a situation whereby a person who seeks their assistance to achieve a particular feat refuses to perform the needed rituals to show appreciation.
"The gods are not wicked, just that they dislike people who are unappreciative," Nana Kwaku Bonsam emphasized.
Though he would not mention names, the fetish priest indicated that many politicians were guilty of seeking assistance from deities and oracles to achieve their political ambitions.
Nana Kwaku Bonsam, who claimed that he has been instructed by the gods to make this disclosure, said they were also highly infuriated because of the indiscriminate invocation of the spirits of deities by people to kill or harm their opponents.
"The gods are not pleased at all at the arbitrary manner people invoke their spirits to either kill or harm their opponents," he stressed.
The invocation of deities in this manner is said to have become a popular practice in the country in recent times especially in the Ashanti region.
Daniel Ohene Agyekum, Ashanti Regional Chairman of the ruling National Democratic Congress (NDC), on the eve of the last general elections, invoked the spirit of the dreaded 'Antoa Nyamaa' deity and 30 other gods to kill some members of opposition New Patriotic Party (NPP) and some DAILY GUIDE staff in Kumasi.
Still giving reasons why the gods are angry, Nana Kwaku Bonsam indicated that the practice where pastors chastised and demonized fetish priests and traditional worship with impunity had aggravated the anger of the gods.
"It is about time pastors left fetish priests and traditional worship alone and concentrated on their business," he warned.
From Morgan Owusu, Kumasi