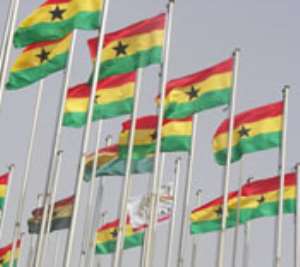 It was reported by the media sometime last week, that during the 52nd Independence celebration in a certain district, Prof. Mike Ocquaye refused to take the salute when he sighted a group of celebrants approaching the podium in NDC colours.
His reason was that the occasion was national and not partisan. As much as I agree with the Honourable for Dome-Kwabenya, I am also of the opinion that he is certainly informed that this practice of party colours at national functions has been with us since the days of Adam and Eve. He cannot claim that he did not witnessed any such display of party colours at a national functions during the eight-year reign of the "Osono" or the period before that.
Prof. Ocquaye's behaviour on that occasion might have demonstrated a sense of intolerance and hypocrisy; however one should not be quick to draw that conclusion. I concede that it was not the appropriate place for such but his action is certainly proper and welcoming in my perspective. I believe as a country and a continent, party parties and party colouring has branded everything and every function to the extent that one can hardly notice any national significance at any function. You name it, from commissioning of public projects to independent day celebrations, from public hearings to naming ceremonies, from traditional durbars to what have you, across the country and across the continent, we delight in painting ourselves as political parties. This I strongly believe is wrong and must be stopped. I also have a strong conviction that it might be one of the many reasons why we have so many political conflicts and deep seated hatred among us because we have become "properties" of political parties rather than a people with collective identity and a sense of purpose. The parties themselves will save scarce resources to strengthen their internal structures by stopping this practice.
I propose that, for a start, we should look at the possibility of enacting a law to outlaw party colours at national functions. No group or groups of persons or individual(s) should be allowed to parade around during such occasions. If we are not allowed to do that during voting days, at least in the vicinity of the polling stations, then it can be taken further to rid ourselves of this irritating act. If we are learning, we should also learn the act of keeping politics national. As we all witnessed the "fear against hope" battle in the 2008 US election, there were no such display of party colours, even at the national and state conventions of the respective political parties. Although the Republicans and Democrats have their own party colours, we only saw the "Blue and Red Stripes" in overwhelming display. We do not have to be a developed country to do this, neither, do we need two centuries of democratic governance to re-orient our political relationships.
Probably, Prof. Ocquaye with his experience in political science and partisan politics can use his "honourable" institution to help stop an evil that he has rightly identified. He must go further by putting a bill together on this issue and push for its enactment into law. At least, it will be one step forward in moving our version of politics from partisan colouring to national orientation. Do we still have that ministry? We should not also forget that "the little foxes spoil the wine" and that "a journey of thousand miles, begins with one step."
May God bless Ghana and God bless us all!
Credit: Frank Kofi Owusu Debrah
Politecnico di Milano, Italy
[Email:[email protected]]