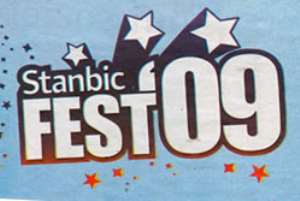 Stanbic Bank is gearing up for what it says is an unprecedented three-day banking festival at the Accra International Conference Centre next Thursday, March 19 to 21.
The bank is hoping to outdoor all its products, job openings and services, including investment banking and advisory services to corporate clients and the general public at the fair dubbed Stanbic Fest 2009.
Stanbic Bank's Head of Marketing and Public Affairs, Mawuko Afadzinu, who was on Joy FM's Super Morning Show Thursday to announce the event, said given the difficulties and challenges brought on by the global financial crisis, there couldn't have been a better opportunity for the investing world to seek counsel on what opportunities are available to them and what investment portfolios offer them the best of returns.
"Issues about the economy, of the global situation, the recession; it is pretty challenging and daunting for a lot of people out there and that's the reason why we believe that there can be no better times than now to let people know what it is they can do, to let people understand what their options are, what the opportunities are; because invariably in the midst of great challenges that is where you have the greatest opportunity.
"It's about you dreaming, you believing in your dreams and acting on your dreams. Basically Stanbic Fest 2009 is going to be a one shop opportunity where you have full exposure to all the financial packages, services and products that you can get. And it is not just about seeing the products…you also move to the level where you get the opportunity to talk to a consultant who is able to customize and give to you suggestions very ideal and very suitable for your circumstances."
Stanbic will be holding banking seminars during the fairs where it hopes to reduce banking issues to the bare for all who turn up and also outdoor what Mawuko described as "very useful, very relevant products" such as a New Business Online Product for corporate clients and products suited for all others who would avail themselves of the opportunity.
The seminars will focus on SMEs, the National Pension Reforms to assist fund managers, and then a general seminar on the global recession and what it means for the individual.
The fairs open from 1pm to 9pm for Thursday and Friday, and from 10am to 9pm on Saturday, the final day.
Admission is free.
Story by Isaac Yeboah