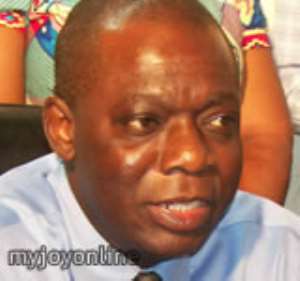 Former deputy Information Minister and spokesperson for ex-President J.A. Kufuor, Mr. Frank Agyekum has said that the former president made arrangements to operate from a private office at the tail end of his reign.
Frank Agyekum told Joy FM's Super Morning Show Thursday that, former President Kufuor informed the present administration of his desire to occupy an office he had located for his private engagements and has since late January moved into occupancy.
He debunked suggestions that the office complex had been procured (bought) by the former president and said that no money had changed hands or has he paid any money for its use.
Frank Agyekum said the office building, a state bungalow located at Ridge in Accra, was previously occupied by a minister of state and while the state is due to provide the former president an office, he was not sure if the same building would be allocated to him.
"I don't know if this building will be allocated to him as an office but what I can say is that if government today thinks that they want to move him to a different location, it is very much within government's purview to do that. The important thing for him was that he needed a place where he could conduct his business. As to what arrangement government is going to make I can't tell but then I also want to add that before he moved in he did inform the government in writing."