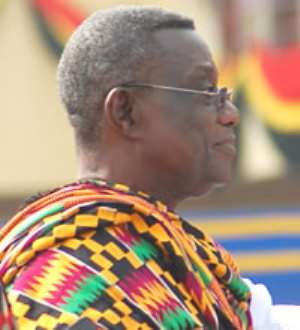 Some beneficiaries of the National Health Insurance Scheme (NHlS) in Koforidua are said to be reluctant to renew their expired cards.

Reason? They are waiting for President Mills to introduce the one-time NHIS premium payment he promised during his electioneering campaign.
Yaa Manu, a trader described the scheme as laudable, but was worried about the cumbersome nature of renewing the cards, Kofi Kotoko, a worker in one of the ministries, said the scheme would be more attractive with the "one-time" payment system.
Meanwhile, a reliable source at the• Koforidua Regional Hospital told the Times on Tuesday that out of a total of GH¢ 14,000 owed the Regional Hospital by the various schemes in the region, GH¢6,900 was paid last January.

The source cited the New Juaben-Municipal Health Insurance Secretariat as owing about GH¢900 as at the end of February, 2009.
A medical doctor speaking to Times on condition of anonymity, urged the NHIS Secretariat to convene a stakeholders' meeting to discuss concrete steps of sustaining the scheme.
"The insurance scheme belongs to all of us, and nothing untowards should be done to sabotage it," he said.
"Clients should also be educated to refrain from moving from one place to another with the same illness to collect drugs, since this unhealthy behaviour tends to deplete the coffers and undermine the scheme," he added.

The Public Relations Officer of the New Juaben Municipal Health Insurance Secretariat, Joseph Nii Commey, when contacted, debunked the allegation that beneficiaries of the scheme in Koforidua were refusing to renew their expired cards.
According to him, about 3,995 out of a total of 18,512 beneficiaries within the New Juaben Municipality (Koforidua) renewed their cards in the last two months and gave the breakdown as 544 in January and 3,451 in February.
"The rate of renewal is encouraging; we will intensity publicity to create awareness on the need for clients to renew their cards," he stated.
Mr Commey, however, expressed concern about some pharmacies requesting card bearing members of the scheme to pay "price difference" whenever they visited those shops for their prescribed drugs as pertained to the drug list ("Medicine List).