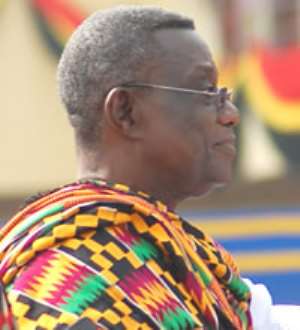 The World Bank has cautioned Ghana against mismanagement of its oil revenue which could adversely affect the country's economy.
Ms, Obiageh Ezekwesili, World Bank Vice President for Africa, in a meeting with President Mills at the Castle, Osu in Accra on Wednesday, said that in view of the global financial crisis, which was affecting economies, developing economies needed to manage their resources in a manner that could reduce the impact of the crisis.
Discussions of an oil rich Ghana, she said, had become relevant because of the need to ensure that it impacted positively on the citizenry.
Ms. Ezekwesili, who is visiting Ghana as a way of striking a relationship between the Bank and the new administration, stressed that dealing with the effects of the financial crisis "is going to be really critical" for developing countries like Ghana which is already contending with a fiscal imbalance.
She was, however, glad that the national budget had been developed in a way to deal with the country's economic challenges.
She urged the government to focus more on investing in agriculture which, according to her, has three times the potential to tackle poverty.
Ms. Ezekwesili, who has been meeting the Finance and Agriculture Ministers, heads of financial institutions and other groups as part of her visit, pledged the bank's continued assistance to enable the country to close its financial gaps.
President Mills, in his remarks, said the government was fully aware of the economic challenges and was instituting adequate measures to address them.
He said the government had a holistic view of the economy, adding that "although the picture is not as rosy as we were made to believe, we have to do everything possible to get things right.
In addition he said his administration had taken cognisance of the effects of the global financial crisis and was accordingly factoring the challenges into the government's economic planning.
He gave the assurance that the government would avoid taking desperate measures, saying it would focus on taking the right measures to deal with the socio-economic challenges.
He thanked the World Bank for the support it has advanced to Ghana over the years "which has helped us to chart a course for ourselves," and assured the bank of openness.
President Mills was of the view that the country could only get the needed support from its development partners when it was truthful and transparent in its dealings with them .
"Given the co-operation from all our partners, we should be able to weather the storm," he said.