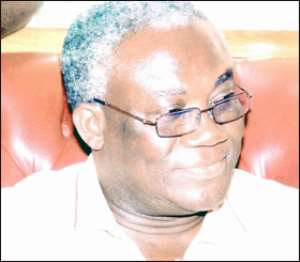 Kofi Asamoah - TUC Boss ORGANISED LABOUR has called on government to consider placing tariffs on imported rice and poultry products to discourage the high inflow of such commodities and allow local industry to assume its responsibility.
Kofi Asamoah, Secretary General of the Trades Union Congress (TUC), who made the appeal recently in Accra, said government should additionally provide a guaranteed price for locally-produced rice.
He said: "Ghana must be self-sufficient in rice production to feed its people and ease the pressure on the cedi accentuated by high demands for the US dollar by rice importers, inter alia."
He noted however that one major setback which agricultural and local food production in particular suffered, under the previous administration, was the lack of political will to implement the Customs and Excise (duties and other taxes) Amendment Act 2003 (Act 641) which placed justifiable tariffs on imported rice and poultry products.
"Indeed, this law which received Presidential assent on 11th April 2003, would have given a major boost to local rice and the poultry industry, but for the haste with which it was repealed under a certificate of urgency, to avoid an order of mandamus then being sought by the Ghana Poultry Farmers Association in the courts."
TUC, which has been working to protect workers against international pressures and agreements that are ultimately inimical to the overall development interest of Ghana and also the ECOWAS sub region, indicated further that the Economic Partnership Agreements (EPA) being negotiated between the European Union (EU) and African Caribbean and Pacific Countries (ACP) should be discarded.
"The EPAs are pregnant with drastic negative effects on most sectors of our economy and especially on the agricultural sector where food imports and agro trade liberalization invite cheap and highly subsidized food products from Europe. Such a situation has the potential of undermining the local agricultural value chain."
By Samuel Boadi