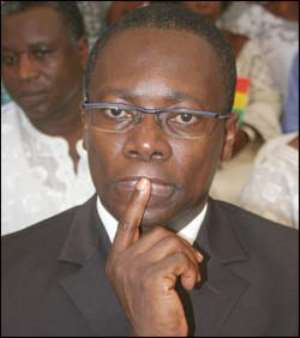 Dr George Yankey, Minister of Health President John Evans Atta Mills is on the verge of witnessing the first strike action since assuming power as junior doctors threaten to lay down their stethoscopes.
They are in disagreement with aspects of the single-spine salary structure which they consider as distortions.
The distortions, they threaten, if not corrected before implementation would be followed by a nationwide strike action.
The threatened strike action was the resolution adopted by junior doctors of the Korle-Bu Teaching Hospital in Accra, at the end of an emergency meeting on the subject last Tuesday.
The resolution has already been passed on to the National Executive of the Ghana Medical Association (GMA) for onward delivery to government.
Only one of the following salary structures would be acceptable by the junior doctors, their statement mentioned.
Either the government maintains the current salary structure which according to them reflects the relativities that existed on the Ghana Universal Salary Structure (GUSS) at the time that the Additional Duty Hours Allowance (ADHA) was being abolished.
Government, it went on could also fuse the two structures into a single spine structure reflecting as they put it the relativities that existed on the GUSS at the time the ADHA was being abolished.
On the other hand government could borrow the salary structure pertaining in the USA with its relativities to Ghana.
It would be recalled that in 2006 following problems associated with the administration of the payment ADHA to all health workers government decided to abolish the ADHA and replaced it with a consolidated salary.
At the time health workers received their remuneration as their basic salary on the GUSS plus ADHA which was calculated on their basic salary and the number of extra hours.
Records show that on-call doctors were paid their ADHA based on the maximum hours of 200 hours.
Health workers undertook an industrial action in protest against the introduction of the new health service salary structure which according to them favoured medical doctors.
They therefore sought the closing of the gap which had been created by the new arrangement to reflect as they put it the relativities existing on the GUSS.
The government obliged by topping up their salaries which according to the junior doctors was over bridged.
The doctors have expressed surprise that the yet-to-be implemented single spine structure has further created distortions; enabling all health workers who on the GUSS were on the same salary with senior medical doctors to be placed at the level of Specialists.
The about-to-unfold situation, the doctors state, is an insult to the academia adding that nowhere in the civilized world is the Chief Medical Assistant placed at the level of the Specialist.
By A.R. Gomda