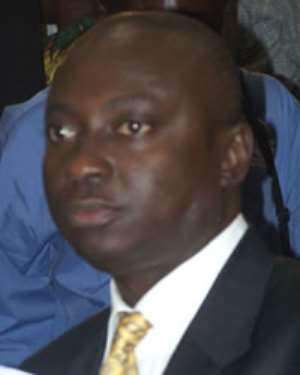 Atta Akyea - MP for Abuakwa South ABU MOHAMMAD, a resident of Keri in the Eastern Region, yesterday afternoon appeared in Accra clenching a walking stick and accusing the New Patriotic Party (NPP) of making him sexually impotent.
He claimed he is a member of the National Democratic Congress (NDC) and alleged that in 1996, the NPP hired some thugs to beat him up in the then Abaca Constituency till his legs were paralysed and that he became impotent as a result of the beating.
The impotent NDC man with the walking stick was in Accra with the aim of testifying before the Appointments Committee of Parliament that indeed, Fifi Kwettey, the Deputy Minister-designate for Finance was speaking the truth when he told the committee that some thugs working for Nana Akufo-Addo, the NPP Presidential candidate had beaten someone to an extent that the person was crippled.
Abu Mohammad claimed he was the said victim and that it was impossible for him to walk without the stick he was holding.
He claimed he was paralysed during the incident and as he was recovering about two years later, he was knocked down by a vehicle and that worsened his plight.
The tale of the impotent NDC man was supported by the party's Secretary for the Eastern Region, Anthony Gyampo, who claimed that Abu Mohammad had been bed-ridden for a very long time and also could not walk without the aid of a stick.
Interestingly, a number of Kyebi residents who claimed to be neighbours of Abu Mohammad, yesterday denied the allegations and said they had seen him on several occasions walking without any stick.
They claimed that Abu's nickname is Commander and that though he was assaulted in 1996, he was fully treated and discharged; they disclosed that he was later knocked down by a vehicle and it was through this that his leg was affected, however, he could still do without the walking stick.
A broadcast journalist from the Eastern Region, Eric Gyasi Paintsil, told Citi Fm in Accra that Abu Mohammad had been walking for the past three months without the aid of any stick.
The former Municipal Chief Executive of East Akyem, Emmanuel Asihene, said the allegations were untrue and that they were fabricated to damage the reputation of the NPP.
By Halifax Ansah-Addo