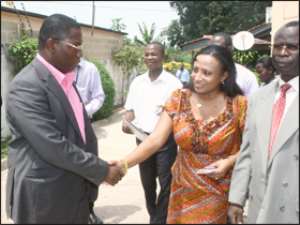 Fortune welcoming Mrs Zita Okaikoi to Daily Guide Mrs. Sabah Zita Okaikoi has stretched out a hand of friendship to the media in her new assignment as Minister of Information.
The Minister was interacting with editorial staffers of DAILY GUIDE yesterday during a familiarization visit to the offices of the private newspaper.
Accompanied by a large retinue of media personnel and staff of her ministry, she did not mince words about her intention to run an open-door policy so that as she put it, the country can 'move forward'.
She patted DAILY GUIDE on the back for what according to her is the newspaper's good work of keeping governments on their toes.
Her visit to the newspaper is testimony of the high esteem she holds the medium, she told the editorial staff in the conference room of the establishment.
She subtly noted however that there are a few grey areas about media practice which she announced she would tackle in a roundtable discussion with relevant stakeholders.
Dissenting opinions are part of the democratic principle to which government subscribes, she pointed out, adding that such dissention should be geared towards ensuring good governance.
Her office, she promised, is ready to work with the media towards bettering the country through an open-door policy.   
She assured the media, "My doors are open for suggestions and clarifications from media practitioners."
On his part, Fortune Alimi, Editor of DAILY GUIDE, explained that contrary to some perceptions, the paper is a private business focusing on all issues that would move the country forward.
"We are not aligned to any political party and survive entirely on the proceeds from our business.
We are not financed by any political party. We should therefore not be tagged an opposition newspaper as some choose to do," he said, assuring the Minister of the paper's   readiness to support her in her work.
The Minister in high spirits undertook a trip round the company's facilities including the newsroom, the graphics and the press house, where she beheld the recently installed colour press system.
By A.R. Gomda