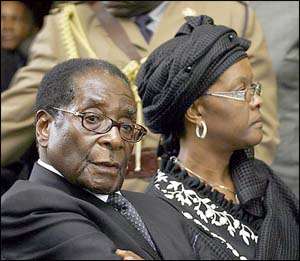 'Saddened' ... Mugabe and his wife . President Robert Mugabe has told hundreds of mourners at a funeral service for Susan Tsvangirai the crash that killed her was the "hand of God".
The veteran leader also said political violence should be a thing of the past.
Prime Minister Morgan Tsvangirai's wife died on Friday in a collision with an aid lorry in which he was injured.
Most of the new unity cabinet attended the service in the capital Harare, on the eve of her burial. Afterwards, some 20,000 gathered for a stadium memorial.
Large portraits of the 50-year-old mother-of-six hung around Glamis Stadium, where her husband spoke last month after being sworn in as prime minister.
'Why, why, why?'
Mr Tsvangirai, who turned 57 on Tuesday, reportedly briefly addressed the crowd to say: "Let's celebrate her existence as God's gift to me and you."
His closest aide, Finance Minister Tendai Biti, said: "We're so traumatised, brutalised, we couldn't feel the pain. Why, why, why?"
Suspicions have swirled over Mrs Tsvangirai's death given past acrimony between the prime minister and president, although Mr Tsvangirai said on Monday it was unlikely foul play was involved.
In his first public comments on the crash, Mr Mugabe told Tuesday's church service: "I plead with you to accept it, it's the hand of God."
Mr Mugabe continued: "We are sincerely saddened by the death of Susan and we hope that Morgan will remain strong."
The 85-year-old leader, whose supporters were accused of launching deadly attacks on opposition activists during last year's elections, added that the environment in the country should not be conducive to violence.
'Life goes on'
The body of Mrs Tsvangirai rested in a flower-draped coffin during the service, attended by her husband and children.
Most of the new administration which shares power between Mr Mugabe's Zanu-PF and Mr Tsvangirai's Movement for Democratic Change (MDC) were also present at the Methodist church.
Mrs Tsvangirai, who kept largely away from the political limelight, is to be buried on Wednesday near the couple's rural home in Buhera, Manicaland Province.
TheSun