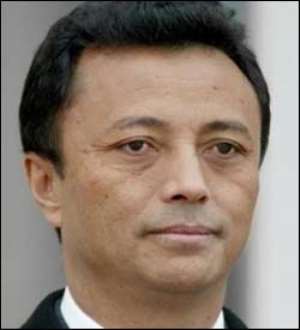 President Marc Ravalomanana The army chief has given Madagascar's rival leaders 72 hours to solve the island nation's political crisis, which has left more than 100 people dead.
"We promise to remain neutral," said General Edmond Rasolomahandry.
He was speaking after a group of soldiers apparently forced the defence minister to resign.
President Marc Ravalomanana has also appealed for an end to the violence and admitted making mistakes during the turmoil that has lasted several weeks.
"We implore all political players, civil society organisations and other parties to reunite immediately to find a solution within the next 72 hours to help the nation out of the current crisis," said Gen Rasolomahandry.
But military spokesman Colonel Henri Michel Marcellin told the BBC the army was not trying to seize power.
"We're just going to put everything in order. Everybody is behind us, the politicians, the army and other members of the security forces, they're all with us," he said.
"It is us, the army, who are in control of the situation."
In a television and radio address on Tuesday, Mr Ravalomanana said he had made mistakes and knew some people were "furious" with him.
"I understand them. I am ready to listen to you. I promise to take steps to find a solution," he said.
Mr Ravalomanana has confirmed he will attend a national conference beginning on Thursday at which he is expected to hold discussions with opposition leader Andry Rajoelina.
BBC