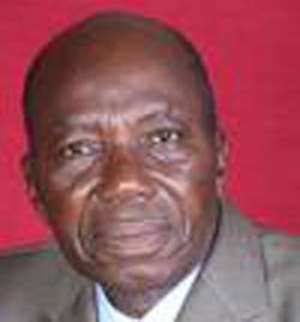 Emmanuel Owusu Ansah THE IMMEDIATE past Ashanti Regional Minister, Mr. E.A. Owusu Ansah has expressed optimism that he will recapture his ministerial position in the next four years.
The ex-minister's hopefulness, he said is based on his firm belief that the opposition New Patriotic Party (NPP) would wrestle political power from the National Democratic Congress (NDC) in the next polls.
He described his absence at the Ashanti Regional Coordinating Council as a leave and therefore he would resume work as the Ashanti Regional Minister in 2012 when Ghana goes to the polls.
Hon. Owusu Ansah made the remarks when a section of the 39 Members of Parliament (MPs) in the Ashanti region visited the Manhyia Palace, to participate in the Akwasidae Festival last Sunday.
"Nana, I am the Ashanti Regional Minister on leave and I am billed to start work again in 2012 when the NPP wins the elections".
This humorous comment from the Kwabre East MP generated spontaneous laughter from all present including the chiefs and some political heads, notably Mr. Osei Opoku Manu the current regional minister.   
Significantly, the Akwasidae festival is celebrated on the first Sunday after every 40 days on the Akan calendar.
The rich cultural event, used to portray the Asante culture, also enables people from all walks of life to pay homage to Otumfuo and to wish him well.
 
Mr. Owusu Ansah said the historic visit to the palace was to make it possible for the MPs to tap some of the abundant knowledge of Otumfuo.
He added that the MPs were there to receive the blessings of the Asantehene to help them carry out their essential duties perfectly.
In line with custom, the legislators including Dr. Mathew Opoku Prempeh, the Manhyia MP paid homage in turns to the Asantehene who sat in state dressed in rich 'kente' cloth.
As is done at every Akwasidae festival, the Asantehene did not give a speech but received homage and gifts from loved ones.
The event was characterized by the drumming of 'fontonfrom', 'adowa' and 'kete' tunes amidst firing of muskets.
By Mary Anane