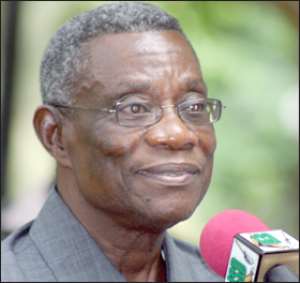 President John Atta Mills
President John Atta Mills has dropped the nomination of the Deputy Minister-designate for Communications, Dr Nartey Siaw-Sappore.
The Speaker of Parliament, Rt. Hon. Justice Joyce Bamford-Addo, who communicated the President's message on the Floor of Parliament however did not disclose why the Minister-designate was dropped.
Nevertheless, DAILY GUIDE sources said the Minister-designate was dropped because he allegedly holds dual nationality.  
Earlier, the National Democratic Congress (NDC) Member of Parliament for North Tongu, Charles Hodogbey had engaged in verbal exchanges with the Majority Leader, Alban S.K. Bagbin over the composition of committees in the House.
Hon. Hodogbey questioned why some MPs should be on as many as nine committees while others serve only on just a few.
DAILY GUIDE sources said the Hon Hodogbey was referring to Hon E.T. Mensah, MP for Ningo/Prampram and Majority Chief Whip, who is apparently on more than six committees.
This however did not go down well with the Majority Leader who said that the matter had been duly noted and efforts were being made to review the composition of committees.
Hon. Bagbin who is also the MP for Nadowli West said it was unfortunate that the member did not contact the leadership and instead raised the matter on the floor of Parliament.
He perceived the action of the North Tongu MP as undermining the leadership of the House.
"If this action is an attempt to undermine leadership, then it will fail," he stressed.
In a quick response, Hon. Hodogbey told the House that he had raised the issue not because of his selfish ambition but because he believed in fairness.
"Madam Speaker, I don't envy anybody in the world. I am content with what I have but I believe in fairness," he maintained.
Parliament on Wednesday, March 4 approved the composition of the Select and Standing Committees. These are Housing and Privileges Committees, Committee on Subsidiary Legislation, Public Accounts Committee, Committee of Members Holding Offices of Profit, Committee on Government Assurance, Finance and Judiciary Committees, Committee on Gender and Children, Special Budgets and Standing Orders Committee.
Others are the Committee on Lands and Forestry, Food and Agriculture and Cocoa Affairs, Local Government and Rural Development, Works and Housing, Constitutional, Legal and Parliamentary Affairs, Health, Communication, Roads and Transport, Interior, and Foreign Affairs among others.
By Sheilla Sackey & Awudu Mahama