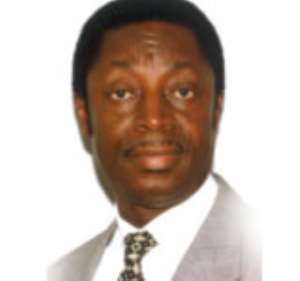 Professor Ernest Aryeetey, Director of the Institute of Statistical and Economic Research, yesterday said the current global financial crisis presents an opportunity for Ghana to position itself as an investment haven.
"This is the time to think about how to position Ghana for a future leadership role in the global markets.
"In times of crisis, it is important to stay focused on the long-term issues, while being mindful of the immediate needs," he said.

He explained that the nation ought to be thinking about the aftermath of the crisis, when some countries and companies will be looking for havens to invest, adding that Ghana could take advantage by positioning itself as a preferred destination.
Prof. Aryeetey gave the advice when he spoke on the theme: "Budget 2009 and the Challenges of the Global Economy" at the first Kwadwo Baah-Wiredu Memorial Lecture Series 2009, which was organised by the World Bank, in collaboration with the Institute of Financial and Economic Journalists and the Ghana Journalists Association, in memory of the late Minister of Finance and Economic Planning, Kwadwo Baah-Wiredu.
On this year's budget, he said government outlined some cost-¬cutting measures such as rationalising subsidies to state¬ owned enterprises, the energy sector, and public sector wages among others - but failed to say how those measures would be achieved.
"The budget promises to reduce deficits to, 9.4 percent of Gross Domestic Product; however, we are not clear where the cuts will be.
"It is important that the adjustment of expenditure is done in a manner that does not compromise future growth," he explained.
On the effects of the global crisis on the Ghanaian economy, he predicted a drop in export earnings because there will be a fall in demand for the export commodities, and also a drop in aid inflows because of the recession some of the donor countries are experiencing.
He further predicted a 30% drop in remittances because of the job losses in Europe and the United States of America where most Ghanaians living abroad are domiciled.
Prof. Aryeetey said the time has come for the policymakers to think about how to restructure the economy.
"We don't need a budget that will just stabilise the economy, but also work towards creating jobs."
He commended government for giving a lot more attention on discretionary expenditures, adding that the quality of public expenditures is crucial; probably more important than reducing expenditures.
Prof. Aryeetey also urged government not to abandon social protection, especially because of the global food and financial crisis.
"Remittances contribute a lot to poverty reduction, especially in the rural areas. And now that they will drop means that households are going to suffer, which means that programmes the school feeding program capitation grant, and the LEAP should be maintained."